BioShock Infinite Ultimate Songbird Edition includes monstrous statue
Designed by System Shock, Thief and BioShock concept artist.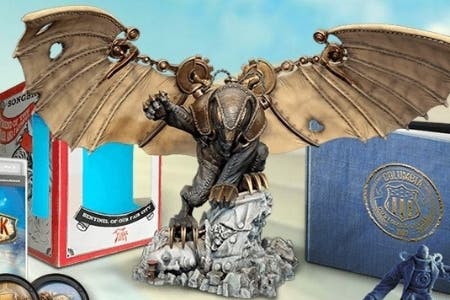 Two special editions of BioShock Infinite have been unveiled by Irrational Games boss Ken Levine.
The Ultimate Songbird Edition is the most lavish and includes a nine-and-a-half-inch statue of the game's iconic avian enemy. In the US it costs $149.99 (about £93).
It's "the coolest statue ever", Levine claimed in a just-published blog post. The piece was designed by talented concept artist and Irrational veteran Robb Waters, he who dreamt up BioShock's Little Sisters.
Other goodies include a linen-bound 64-page artbook, a 25mm Handyman figurine, a propaganda poster lithograph, 3" Murder of Crows bottle keychain and a digital soundtrack.
In-game items include three exclusive Gear power-ups: Bull Rush to strike down foes when you melee; Extra! Extra! to earn money from collecting audio logs; and Betrayer to see enemies explode in a damaging ball of flames upon death.
Xbox 360 players get Booker and Elizabeth avatar costumes, while PC and PlayStation 3 gamers receive Themes.
The Ultimate Songbird Edition will include all of the above, while the standard Special Edition will include everything but the statue for $79.99. European pre-orders will begin on Monday, 22nd October - expect to see local pricing then.
BioShock Infinite is due to launch on 26th February after a long and delayed development. This week more staff were reported as having left the project for pastures new, after earlier high-profile departures in August. New gameplay footage - the first in many months - is due to be unveiled this weekend.