BioShock Infinite: Complete Edition retail listings spotted
Ostensibly for an early November release.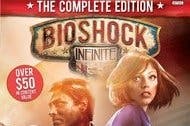 Retail listings for "BioShock Infinite: Complete Edition" have appeared on both GameStop and Amazon Canada's storefronts.
Both list a 4th November release.
While not officially announced by publisher 2K, it sounds like a pretty safe bet that this Complete Edition, that includes all the DLC, is indeed a real thing. Its description on GameStop noted that it comes with the following:
BioShock Infinite Main Game
Clash in the Clouds Add-On Pack
Burial at Sea - Episode 1 Add-On Pack
B
urial At Sea - Episode 2 Add-On Pack
Industrial Revolution Rewards Pack
BioShock Infinite Upgrade Pack
Columbia's Finest Pack
Comstock's China Broom Shotgun
Comstock's Bird's Eye Sniper Rifle
Both listings priced the BioShock Infinite: Complete Edition at $39.99 (so about £25).
We've requested confirmation about this Complete Edition from 2K as well as inquired about its likelihood of a UK release. We'll update should we find out more.