Bethesda's giving away Morrowind free to celebrate 25 years of The Elder Scrolls
UPDATE: Giveaway period extended following technical difficulties.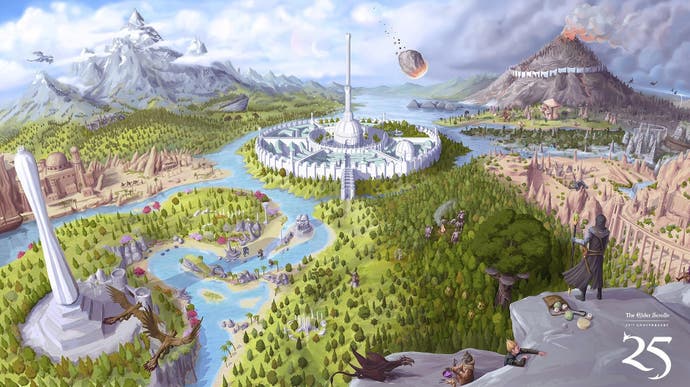 UPDATE 26/03/2019: As you may have observed from the comments on this article, Bethesda's Morrowind giveaway didn't exactly go to plan. Users reported several problems with claiming a free copy of the game, including difficulties logging into Bethesda.net and problems with the code system. You may have seen the memes.
In any case, Bethesda acknowledged and eventually resolved the technical problems and has now extended the period for claiming a copy. If you missed out on the first round, you have from now until the end of Sunday 31st March to bag Morrowind for free.
The technical issues have been frustrating, but when all's said and dunmer, at least we (eventually) got a free game.
---
ORIGINAL STORY 25/03/2019: What's been going for 25 years and is therefore older than me? That's right, it's The Elder Scrolls series, which is today celebrating a quarter-century of dragons, spells and loud yelling.
The first Elder Scrolls game, The Elder Scrolls: Arena, was released back in 1994 for MS-DOS (some kind of ancient operating system, apparently). Since then there have been a fair few entries in the series, and to mark the occasion, Bethesda is celebrating in the best way possible: by giving out free stuff.
Those who log into Bethesda.net today can claim a free copy of Morrowind by using the code TES25TH-MORROWIND. I guess that does mean having to download the Bethesda launcher, however.
Meanwhile, The Elder Scrolls Online is having a free-to-play week from 28th March to 3rd April. Players are also now able to access the Elsweyr Prologue - part of the Season of the Dragon storyline - all for free.
Bethesda is also encouraging fans to post their creations on Twitter using the hashtag #TES25. So far it's mainly memes, what a surprise.
Despite all of these goodies, unfortunately there aren't any tidbits of information on the upcoming (and still rather mysterious) Elder Scrolls 6. Hopefully it won't be another 25 years until we hear about that.