Bethesda lists Skyrim for PS4 and Xbox One
UPDATE: It was a website error. UPDATE: Bethesda has explained the sighting as a website error.
"We have been working on the CMS that runs our sites. A bug caused platforms that don't exist to show up for some games. Sorry for confusion," said Bethesda chief spokesperson Pete Hines on Twitter.
Apaprently the date 00/14 got entered in blank fields, such as PS4 and Xbox One, and caused those platforms to show on the page.
Nowhere did Hines out-and-out state there will be no PS4 or Xbox One version of Skyrim, for what it's worth.
Hines also classified the Bethesda Store picture, which announced an upcoming announcement, as a "hoax".
"Better question is: why do fans feel need to pull these hoaxes on other fans?" he pondered.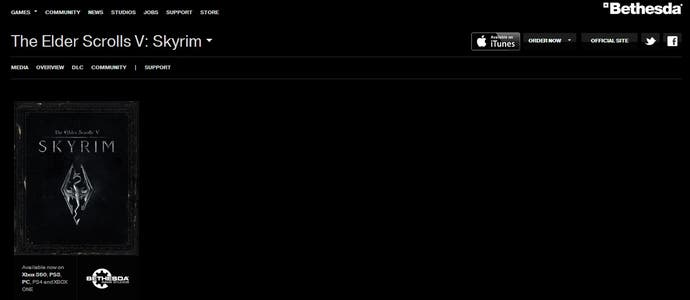 ORIGINAL STORY: The official Skyrim website made a boo-boo. It lists the game as available on PS4 and Xbox One as well as PC, PS3 and Xbox 360.
The evidence was captured in a screenshot by the all-seeing eye of NeoGAF (originating on OnlySP).
Can it really be - is Bethesda planning to re-release the monstrous open-world role-playing game on the new consoles? An email apparently sent from the Bethesda Store to a shopper suggests there's an announcement planned for 12th January, too. That's a Sunday, an odd choice of day for such a thing.
If Bethesda is bringing Skyrim to PS4 and Xbox One, what about the game will be changed? The obvious suggestion is the extra grunt of the machines will mean a much prettier, perhaps smoother experience.
Would Bethesda dare go a step further and include the myriad amazing mods that stand the PC version of the game a world apart from the console game today?
How good can it look, you ask? Well, I'll let arty screenshot taker Duncan Harris and his website Dead End Thrills do the visual talking.