Best cheap gaming headset deals for November 2023
The best deals on gaming headsets for PC and Consoles.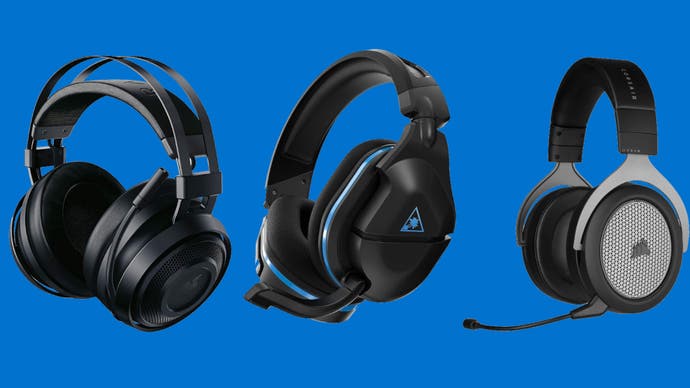 A good headset can really make a difference in your gaming experience. It can let you hear every footstep or listen to the wind blow between the trees, and a comfortable headset lets you game for hours on end without getting a headache. Finding a headset with great sound and comfort can be expensive, but luckily for you, we've rounded up the best deals on some of the top gaming headsets out there during November 2023.
Down below are some of the best headset options if you're on a bit of a budget thanks to the discounts they're getting. If you have a budget of over £100/$100, or no budget at all, then have a read of Digital Foundry's best gaming headsets page to see what the cream of the crop has to offer. Some might appear in this page in the future, so remember to check back here to see what new headset deals appear.
SteelSeries Arctis Nova 1
The SteelSeries Arctis Nova 1 is an ultra lightweight headset that can be used with Xbox and PlayStation consoles and PCs thanks to the 3.5mm jack connection. It has 360 degree spatial audio, a ClearCast Gen 2 noise-cancelling microphone, and has the very comfortable goggle-like headband found in other SteelSeries headsets.
HyperX Cloud II
One of the most popular gaming headsets of all-time, the HyperX Cloud II remains a top pick thanks to its solid 7.1 surround sound, comfortable design and ease-of-use. Connect the headset via the USB-A cable to your PC or console for 7.1 surround-sound, or connect with a 3.5mm jack if you need to. The Cloud II also has a detachable noise-cancelling microphone that is good for this price range.
Logitech G335
The Logitech G335 features an adjustable headband similar to that on SteelSeries headsets, and also has memory foam earpads for added comfort. THe G335 uses a 3.5mm jack to connect, and 40mm drivers for the audio. Everything can easily be adjusted on the headset with the volume wheel on the side and the flip-to-mute microphone.
Logitech G435
If you're looking for a wireless headset on a budget, then the G435 is a great option. It's very similar to the G335 but without the cables, using the same 40 mm drivers and memory foam earpads. Connect the headset via bluetooth or the 2.4GHz adapter, and this time the microphone is built in to the headset so no need to flip it up or unplug when you're not using it.
Corsair HS35
Another good budget option, the Corsair HS35 uses 50 mm neodymium speaker drivers to deliver sound with wide range and reliable accuracy. It has a detachable unidirectional microphone which can be controlled using the on-ear volume and mute controls. It will work with PC, Xbox, PlayStation and Switch thanks to the 3.5mm connection.
Razer Blackshark V2 X
Another historically popular headset, the Blackshark V2 X from Razer is robust while still being comfortable. Despite its larger size, it weighs 240 grams and has thick memory foam padding so you don't get uncomfortable. It uses Razer's Triforce 50mm drivers to deliver 7.1 surround sound, and has a bendable hyperclear cardioid microphone which can be easily muted using the on-ear controls.
Turtle Beach Stealth 600 Gen 2
Another good budget wireless option, this time from long-time gaming brand Turtle Beach. The Stealth 600 offer a solid 15-hours of gaming per charge and are recharged via USB-C. It has 50mm drivers that have spatial audio to get the most out of your PS5's sound, and can also be used on PC thanks to the mini-USB transmitter which is easy to plug-and-play.
And there you go, lots of great headset options that are currently on sale right now. If you want to make sure you don't miss out on a gaming headset deal in the future be sure to follow the Jelly Deals Twitter Page, where we are always letting people know when there are great deals on headsets and lots of other gaming peripherals.