Behold Dragon Dating Simulator, the most literal title ever
Dance with dragons.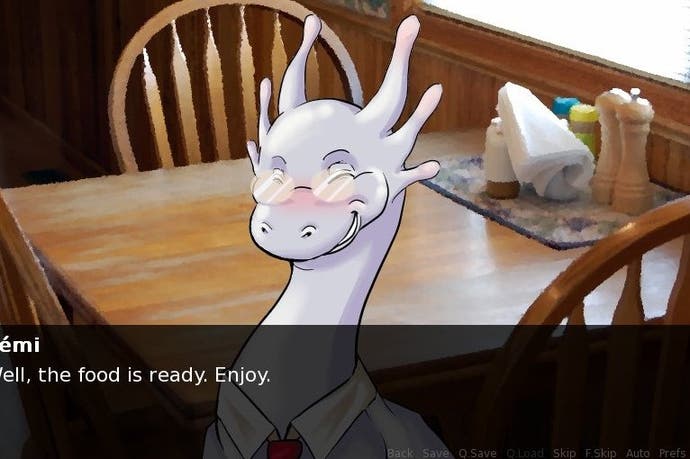 Tired of dating pigeons in Hatoful Boyfriend and want to move on to something a little more dangerous? Then it looks like we've found just the thing for you with Dragon Dating Simulator, the dragon dating simulator.
Currently campaigning on Indiegogo, Dragon Dating Simulator looks like quite the thing. Like Hatoful Boyfriend before it, Dragon Dating Simulator's tone is beyond silly with its playable demo putting you in the role of a human male trying to court a suburban dragon sporting a dress shirt, tie and glasses. Naturally, I failed my date because I didn't treat my scaly partner right. But at least I got some meat out of the deal. No, really. I stole the steak he was going to cook for me. It was delicious!
The debut trailer below arguably plays things a little too straight, but I reckon that's likely the point as it's seemingly a parody of preteen anime cliches. Or a Hatoful Boyfriend clone. You decide.
Developer M. B. Saunders explained the game's premise with the following excerpt: "You have been selected as one of the humans to travel to the world of dragons in a cultural exchange program. While you are only getting to know this strange, yet somewhat familiar land, it will be up to you and the friends you make to uncover a conspiracy that threatens this newly discovered world... and in the process, maybe even find love."
Selling points contain a "novel sized script" featuring "a quirky and unusual story, with elements of comedy, drama and murder mystery."
"We think dragons today are suffering from a substantial image problem," Saunders explained on the Indiegogo page. "While popular media usually credits them as the amazing and powerful creatures they are, too often are they also depicted as being stereotypically evil or uncaring. Our aim is to show the world that dragons are people too. They think, speak, experience happiness and pain and can also be gentle and loving as well."
Dragon Dating Simulator is currently on Indiegogo where players can reserve a copy for PC upon its estimated February 2016. Early birds can snag it for €7 while the rest will have to pony up €9.
So far Dragon Dating Simulator has only acquired €631 towards its €8000 goal, but it has 15 more days to go before its 17th December deadline.