BBFC dismisses Modern Warfare 3 London bombings comparison
Warning: spoilers within.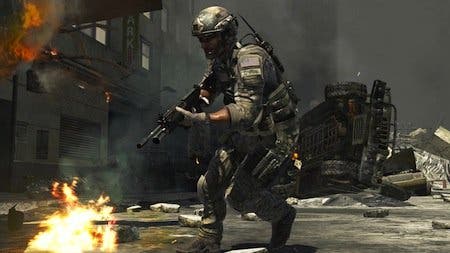 The British Board of Film Classification has dismissed comparisons between sequences in Call of Duty: Modern Warfare 3 and the 2005 London bombings.
As seen in the title's age rating listing, the BBFC believes that a section of the game that sees the player pursuing Russian terrorists through the London Underground is "far removed" from the July 2005 attack that resulted in the death of 52 people.
"Call of Duty: Modern Warfare 3 includes a level set in a fictional London in which Special Forces soldiers chase enemy Russian mercenaries through London Underground tunnels as the mercenaries attempt to escape on a train," read the listing.
"The train, which contains no civilian passengers, crashes beneath Westminster Underground Station and the battle continues through the station up to street level."
The description adds that it's possible to shoot civilians on the station platform but - unlike in Modern Warfare 2's infamous No Russian sequence - you'll be sent back to your last save point should you do so. "Some comparison has been drawn between the action in the game and terrorist attacks on the London Underground in July 2005," it continues.
"However, a full examination of the game makes clear that the storyline is far removed from these real events, neither drawing upon nor resembling real terrorist attacks on the Underground.
"Nevertheless the location of the action in familiar London settings, both above and below ground, establishes a context within which the tone and impact of the work may, for some, be more unsettling, and upsetting, than in previous games in the series.
"The BBFC's decision to restrict the game to adults primarily reflects moments of strong violence, but also takes account of these contextual elements."
The summary also mentions another particularly troubling sequence in which an interrogation victim is set on fire, "although this is viewed through the scope of a rifle and the detail is limited."
The game, released in the UK tomorrow, has already attracted controversy for a sequence showing a young girl and her mother being killed in an explosion in Westminster, which co-developer Sledgehammer Games defended over the weekend.