Battlestations Midway
God of war.
Guiding hand
By simply directing your aerial or naval units to where they should patrol or attack, you can get on with being more of an overseer; a battle director if you like. With a view of the entire mission area, you can see at a glance where enemy units are approaching from, enabling you crucial time to counter-attack. Likewise, flicking between units with the dpad allows you to assess their health status quickly, giving you a chance to deploy more units as required, or (in the case of the boats) nip to the repair screen and address any leakages, fires, mechanical issues or weapons failure.
But perhaps the most crucial element of letting the AI take charge of firing the weapons is that they're generally a lot better at it getting them on target than you will be - particularly naval units. One of the main problems with direct sea combat is the need to line up the ship just so to make sure your artillery, torpedoes or AA guns are pointing at a favourable angle. Given that the optimal time to strike might be when enemy units are distant specks on the horizon, it's a real struggle to line yourself up, zoom in with your binoculars and get a bead on your target from afar. Trying to fire artillery, line-up torpedo strikes, steer, manage speed, perform repair tasks, evade incoming torpedoes and manage other units turns your average battle into the kind of plate spinning task that quickly ends in disaster. Switching to the map might not be the sexiest way to experience the white heat of next generation battle, it's an extremely effective way of playing the game.
In later missions, (and particularly in the game's 10 challenge missions), the need to deploy and replace units eventually makes it impossible to play the game effectively without being strategic about it. But one of the real master-strokes of the game's design is that it always gives you the option of taking direct control of any of the units whenever you see fit. So although, in general, you need to direct proceedings on the battle map, if you want to get your hands dirty in a crucial dogfight, you can. In fact, once you get more proficient at the game, and more familiar with specific missions, you might actually find that you can gain the edge by taking direct control more often. Being aware of where enemy units are going to appear takes a lot of the initial panic out of the game, and with a little bit of preparation you can ensure that you can not only get the jump on enemies, but be confident enough to be the one with your finger on the trigger.
Brief affair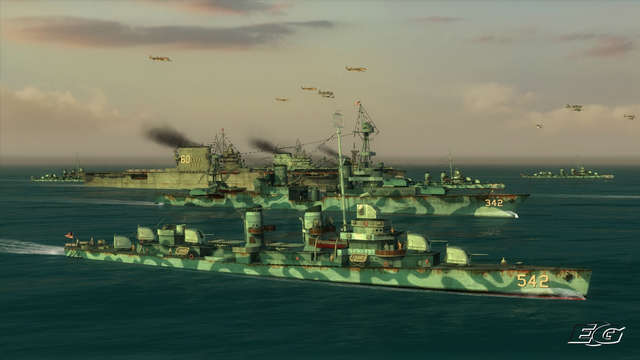 But a common complaint doing the rounds of the interweb is how short the game is. Certainly, were it not for the ludicrous difficulty spike encountered on Raid on Balikpapan (where actually being more thorough is a bad move) we would have finished the main US campaign game on regular difficulty in well under six hours. The ten challenge missions certainly more than double that figure (some of them are brutal), but it's hardly an epic voyage unless you're utterly determined to play every level on Veteran difficulty.
Another criticism is the game's lack of checkpoint save. Sure, some of the missions are easy and short enough for you to not miss it, but others can sprawl to 40 minutes or more of careful play time. Needless to say, failing at that stage and being left with no choice but to start over is hellishly annoying - especially when similar games of this ilk have long since implemented such frustration-reducing mechanics. Poor show, Eidos.
Also, as slick as the front end is, and as polished as the game is on a technical level, the general storyline and tenuous narrative connection to the action makes the between-level cut scenes as throwaway as they come. Admittedly, you don't play a game like this and expect life-changing storyline, but you wouldn't miss it if it wasn't there at all - put it like that.
Harbouring a grudge match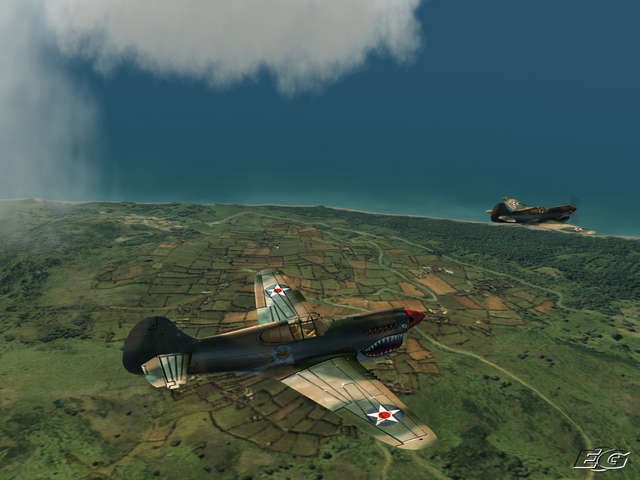 Which leaves the games potentially excellent online multiplayer mode. With support for up to eight players, nine maps to choose from, and ranked or player matches, you basically fight on the side of the US or the Japanese, and can then choose which units to go into battle with. Playing out like a busier version of a typical single player campaign, the idea is to guide your units and attempt to wipe out the key units of the opposition. For example, just like in a normal game, you might have two destroyers, or a single heavy cruiser, or have an entire airfield or shipyard with the ability to launch various types of unit at the opposition. The match continues until one team has lost its key unit, which, as we found out, can take an awfully long time, leading to hosts quitting out if no imminent conclusion was apparent.
On the whole the multiplayer matches were a lot of fun, and each map offers up a wealth of possible roles and scenarios to play that differ wildly from one another. While 'only' having one mode might seem a bit of an oversight, each map is essentially like a mode in itself. For example, the 'Air Superiority at Luzon' map is essentially a dogfight match, while others are purely naval battles - with all points in between. The great thing is that it promises to cater for many different tastes, so it's no surprise that it's built up a following. It's not often we say this, but this is a very different type of online game, and somewhat unique for Xbox Live.
Battlestations Midway took a long time to grow on us, admittedly, but it felt like an effort worth making. It's a game that does things a little differently from its peers, and has the rare distinction of being a game that stands out in its own right. But the very fact that it's an action game with a strategic bent also makes it quite tough to appreciate at first. The traditionalist in you wants it to be one thing or the other, but by the time you're done with it you'll admire the flexibility on offer. You might even wish that other action games would give you the kind of tactical flexibility that Battlestations Midway offers - or you might even start to hanker for more hands-on action in real-time strategy games. Despite the largely successful genre splicing apparent, it's not a game that gets everything spot-on - with a short campaign, over-long tutorial and uneven difficulty, there's room for significant improvement for the inevitable sequel. For now, you'll just have to settle for game that's midway between good and brilliant.
Will you support Eurogamer?
We want to make Eurogamer better, and that means better for our readers - not for algorithms. You can help! Become a supporter of Eurogamer and you can view the site completely ad-free, as well as gaining exclusive access to articles, podcasts and conversations that will bring you closer to the team, the stories, and the games we all love. Subscriptions start at £3.99 / $4.99 per month.