Battlefield: Bad Company 2 - Onslaught
Modern four-ware.
The other three maps will present their own specific challenges. While Valparaiso is a blend of infantry and vehicle warfare, the 'remixed' daylight version of Nelson Bay is much more infantry-focused, with dogged ground warfare placed front and centre featuring "vehicles that you haven't seen in that map" according to Johnsson.
Atacama Desert favours "all-out vehicle warfare" with choppers and tanks available, and the added challenge of sandstorms to battle against. Finally, Isla Inocentes will boast a variety of vehicles including the Black Hawk helicopter and the patrol boat, and be played out against an evening setting. "It'll be twilight combat and very foggy, so you won't have the same visibility you're used to on that map."
Four difficulties will be available to choose from, catering for complete beginners, right up to the super hardcore. "What we're aiming for is a blend of experiences," explains Johnsson. "We're trying to give variety to the player, and a chance for the novice to give online mode a whirl before they venture out into the real thing."
But that doesn't mean the old hands needn't sign up for duty. "It will be extremely competitive at the higher difficulty levels, and your finishing time will be ranked on a global leaderboard for all skill levels," he says, also confirming there will be an additional eight new Achievements and Trophies to attain.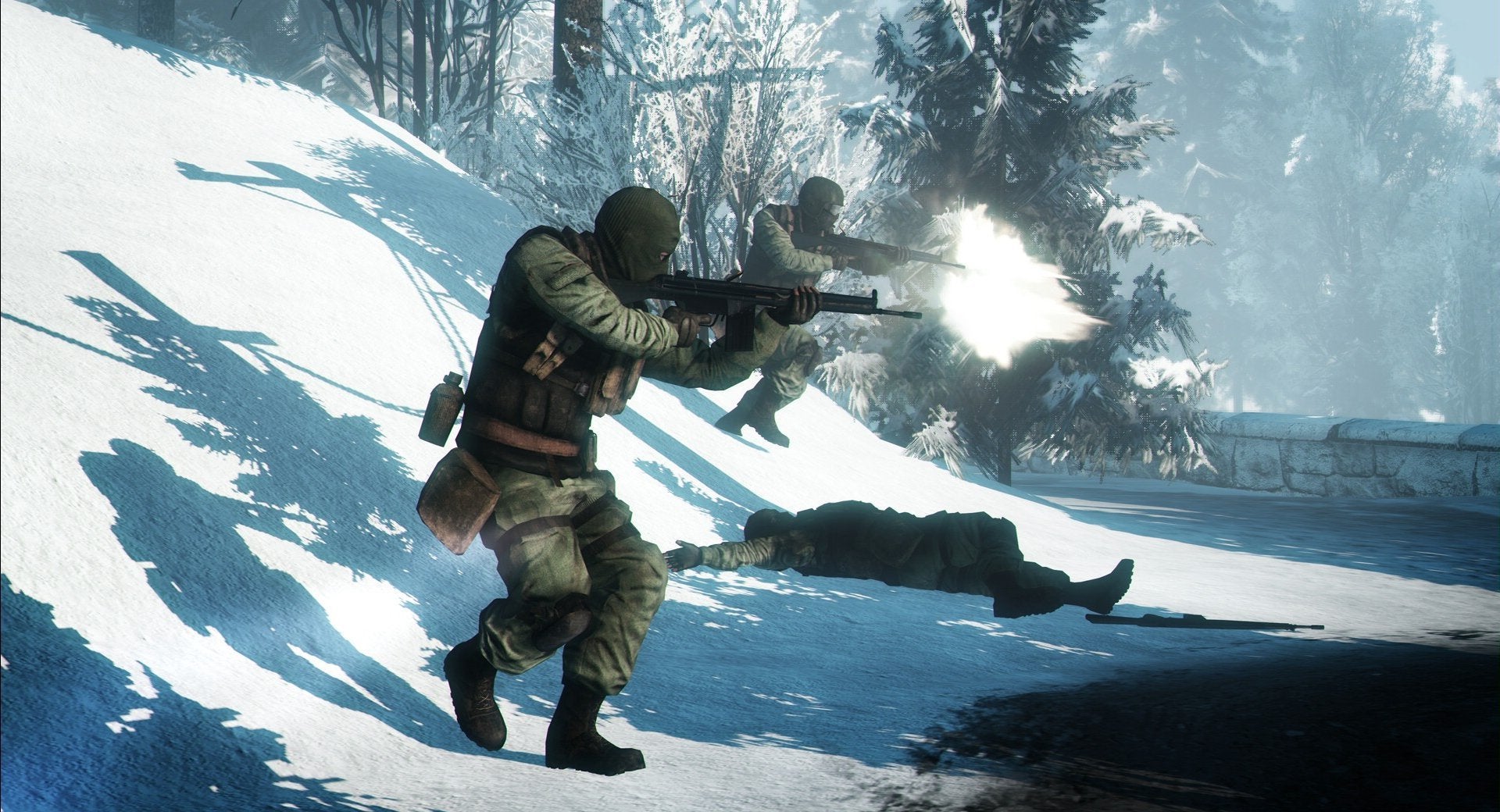 For those who have already sunk countless of hours into the game, all existing weapons that you've previously unlocked will be available for selection, but no new ones, curiously. All teamplay gadgets will also be available.
Onslaught is only scheduled for release on PS3 and Xbox 360. When grilled on the Bad Company 2 forum by angry PC gamers, associate producer Bazajaytee insisted: "We haven't signed away rights to console on this... At this time we are researching how to bring it to PC without affecting players who don't have Onslaught or their own server to run it on."
He continued: "The problem we have on PC is that all our servers are dedicated with providers. Changing a server from Conquest 32 players to Onslaught four players cuts out 28 player slots from the total amount available. This could have a dramatic affect on the PC online environment if enough servers changed to Onslaught."
Security issues also rule out the chances of a peer-to-peer connection for PC owners, meaning that Onslaught will be firmly console-only for the time being. But with Battlefield: Bad Company 2's popularity exceeding all initial expectations, maybe EA and DICE will address the demands of the PC community once enough noise is made.
Battlefield: Bad Company 2 - Onslaught will be released for download on 22nd June for Xbox 360 and 23rd June for PS3.
Will you support Eurogamer?
We want to make Eurogamer better, and that means better for our readers - not for algorithms. You can help! Become a supporter of Eurogamer and you can view the site completely ad-free, as well as gaining exclusive access to articles, podcasts and conversations that will bring you closer to the team, the stories, and the games we all love. Subscriptions start at £3.99 / $4.99 per month.