Batman: Arkham Knight screens show off Penguin, Two-Face, Riddler
Next-gen villainy.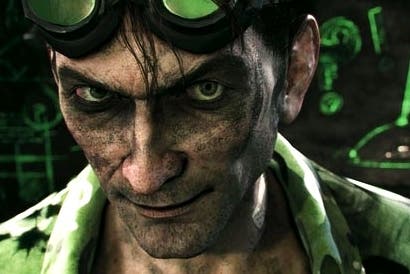 Three new Batman: Arkham Knight screenshots posted by Game Informer have revealed our first next-gen look at returning villains Penguin, Two-Face and The Riddler.
Arkham Knight developer Rocksteady has tweaked each of the foes' designs to keep them exciting - "even after meeting them for a third time."
"How can we make these guys exciting, even after seeing them again?" art director David Hego explained. "Every time, we make them look better and better and better, but at the same time, how can we improve the story behind them?"
Penguin now sports a shaved head and more of a thug-type look, while Two Face's new rolled-up sleeves reveal more of his burnt flesh.
Meanwhile, Riddler's character model will evolve throughout the game, similar to how Batman's model changes to become more battle-worn. The character now sports a Charlie Sheen-esque face and green tinted goggles, and will get progressively more grimy and dishevelled as his part in the story unfolds. There are other bad guys too - Rocksteady's new Arkham Knight villain designed to be the perfect foil for Batman, and another familiar face - Scarecrow, said to now sport the scars from his brush with Killer Croc back in Arkham Asylum. But these - for now - remain under wraps.
You can see all three images over on Game Informer.