Back 4 Blood crossplay: How to invite friends and create online multiplayer matches in Back 4 Blood
Panic at the discord.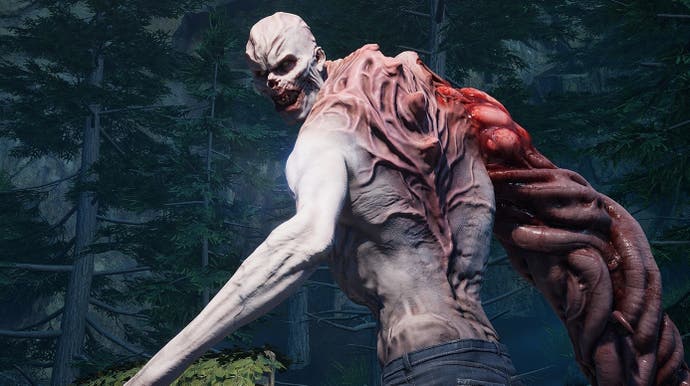 Wondering how to use crossplay in Back 4 Blood? Here's how crossplay works, as well as how to invite friends and create multiplayer matches.
Crossplay in Back 4 Blood allows you to invite friends and create multiplayer matches between different platforms.
Crossplay is enabled automatically in the co-op zombie shooter - which is welcome as it's best enjoyed among human company instead of bots.
Not only this allows for split-second decisions to take place smoothly, especially if you're in voice chat, but it also makes for a more entertaining experience all around.
This page explains how Back 4 Blood crossplay works, as well as how to invite friends and how to create multiplayer matches.
On this page:
If you're looking for more tips, our how to unlock Back 4 Blood characters explainer can help.
Back 4 Blood crossplay explained: How does crossplay in Back 4 Blood work?
Thankfully, Back 4 Blood crossplay is available from the get-go. This allows you to play with people from other platforms across PC, PlayStation and Xbox with no restrictions. If you prefer to disable (or ensure it's enabled) this, then see the 'how to create a multiplayer match' steps below for where to check Back 4 Blood's crossplay settings.
The way it works is fairly straightforward. One of the first messages you'll see when you first boot up the game is one with your username. You can then share this with friends and people from other platforms so they can add you.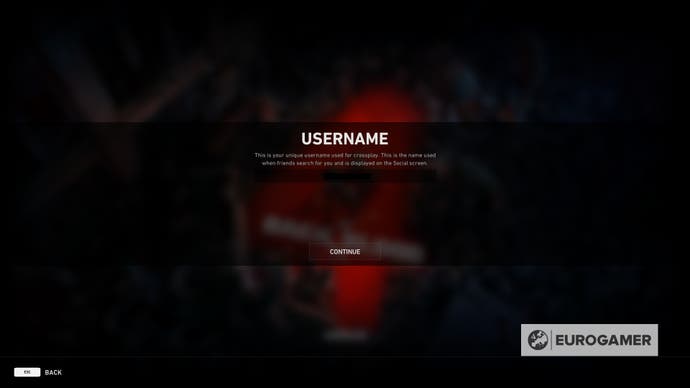 In case you're wondering, there is also cross-gen. So, if you're playing on previous generation consoles and you upgrade to current gen platforms (so from PS4 to PS5, or Xbox One to Xbox Series) your game and save file carry over. Moreover, players across both generations can play between each other, as well as with others across different platforms.
The only caveat to all of this is that there's no cross-save support between different platforms. If you have the game on both PC and PS5, for example, your progression can't be shared between the two - but you can if you are going between PlayStation and Xbox. If you're curious about how this works with other folks in multiplayer, the next section can help.
How to create an online multiplayer match in Back 4 Blood
This may sound simple enough at first, but the way Back 4 Blood is structured can be the cause of some confusion.
First, if you want to create a match, you have to talk to Phillips in the hub area, which is the place where you always end up first upon entering the game. He can be located in the northern side of your spawn point, and will open up the corresponding menu.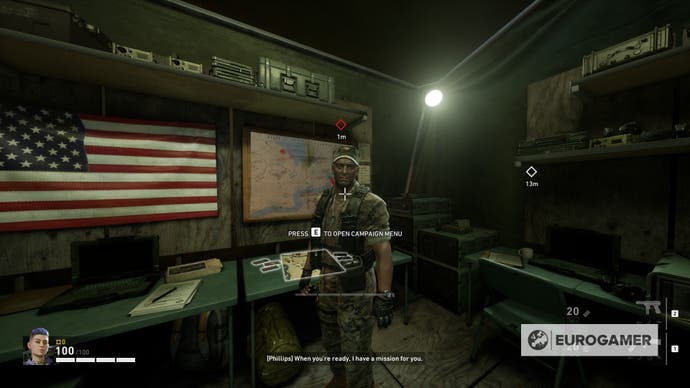 In here, there are several options:
Crossplay Enabled: This isn't an option per se, but if you want to confirm whether or not crossplay is activated, you can do so here
Quickplay: Jump into already existing matches
Campaign: In here you can select Act you want to start with or the particular level - it's also where you can choose your difficulty of preference
Swarm: Allows you to create a match for Back 4 Blood's PVP mode
Solo Campaign: This allows you to play the campaign with bots and a number of other solo mode limitations
Preferences: Allows you to customize your matchmaking preferences, choosing whether or not you want to enable crossplay, run a private or public lobby, and tweaks for in-game voice chat
Replay Tutorial: Straightforward enough - you can play the tutorial again in case you want a new rundown of the basics
If you want the traditional experience of playing the campaign with friends, start with Campaign. If this is your first time playing, you only need to select the difficulty of choice (we recommend Recruit until you and your teammates have gotten better cards), and select Create Run.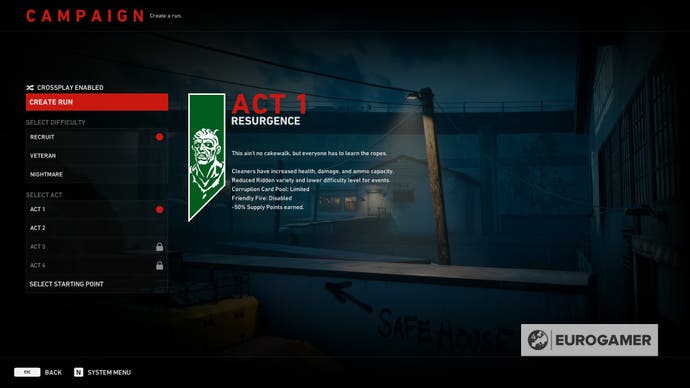 Now, if you've already played some of the levels or Acts in the game, you'll be able to choose between them - as long as you're under the same difficulty you first played them.
If you want to create a match with a difficulty setting you haven't played at yet, you will have to start from scratch.
To choose a specific level, you first need to select the corresponding Act, and then the Starting Point, which will open the list of all available stages. If you're curious about possible limitations when other players join your game or you join theirs, the following section can be of help.
How to invite friends in Back 4 Blood
In Back 4 Blood, you can invite friends in two ways - pressing pause and opening the Social menu or by clicking the blank slots in the Play screen (which we mentioned in the previous section) to send a quick invite to friends from your platform who're currently online.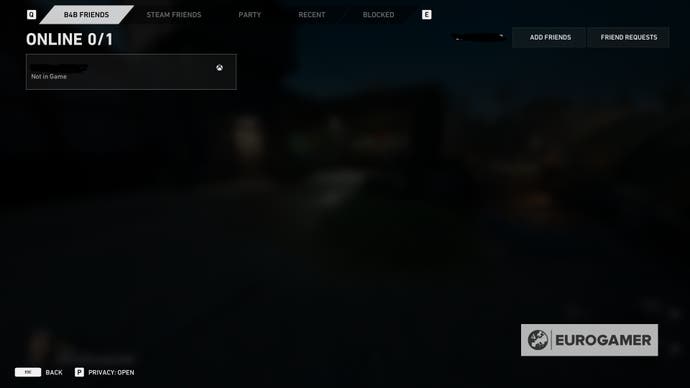 Either will show you the Party screen, which includes B4B Friends (added via the unique usernames), your platform's friends, as well as recent players you've come across. All you have to do is select the friends you want to join you and send them an invite.
From here, you're also able to change the privacy of your Party from open (allowing for anyone in matchmaking to join), friends only or invite only.
It's worth noting that, while being the host in Back 4 Blood allows you to keep all the progress you and your teammates make, this is different if you're the one joining another session. If you made it to Act 3 but the host is in Act 1, you will have to start from Act 1 with them and the rest of the squad. Just something to keep in mind!
That's all you need to know for all of your multiplayer endeavours - have fun taking down zombies!