Auto Club Revolution Preview
The wheels go round and round.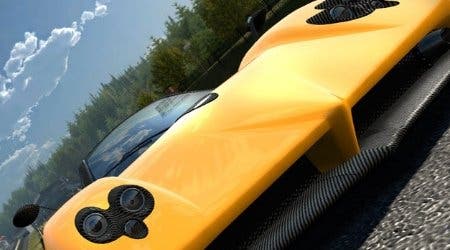 The automotive industry in Britain isn't what it once was, but it's learnt to adapt and evolve, finding and filling niches and flourishing in an ever-changing market. For the country's virtual automotive industry it's much the same story; there have been some big casualties (rest in peace, beloved Bizarre) but there are those that continue to thrive, creating the same, well-crafted output that made the industry's name in increasingly novel fashion.
Codemasters struck gold with an Indian investor and the F1 license, while Criterion worked its magic on Need for Speed and looks likely to return to the franchise it breathed some much-needed life into. Elsewhere, South London's Slightly Mad Studios, its own stint on Need for Speed seemingly on hold, has turned its expertise to Project Cars, a crowd-sourced game that's taking more than financial donations from its fledgling community - it's taking their ideas onboard too.
And then there's Newcastle's Eutechnyx, modest veterans of the UK's racing scene with coming up to 14 years experience of crafting driving games. Like Slightly Mad, it's struck out on a different path to many of its competitors, although Eutechnyx is currently a little further along the road.
Auto Club Revolution uses a free-to-play model, and like other games without an explicit price tag it's doing its best to challenge preconceptions of what that actually means. It certainly benefits from high production values, building upon the work that Eutechnyx carried out on Ferrari Challenge, Supercar Challenge and the more recent official Nascar effort.
There's an all-new engine underpinning Auto Club Revolution, but the game's roots in full blooded box products is clear enough - and as it's the first time that Eutechnyx has been able to stretch itself to a more serious-minded racing game on the PC, Auto Club Revolution manages to be a more visually attractive proposition than its console predecessors.
Its technology is scalable, accommodating older computers as it chases as wide an audience as possible, but on a muscular laptop it positively sings. A solo stint around Spa on an atypically bright day in the Ardennes runs as smooth as butter, trackside detail popping with a clarity unknown to the Challenge games, and with a boldly modelled BMW M3 E92 that's equally handsome.
Working on PC, and working towards attracting as broad an audience as possible, means that Auto Club Revolution has to scale in other areas too. Wheels are fully supported, as are game pads, but the keyboard support reveals a game that's shooting for the mass market as much as it is the hardcore - a hardcore, it must be pointed out, are exceptionally well catered for on the PC, with Live for Speed, iRacing and rFactor and its imminent sequel just some of the options already out there.
Going head to head with such competition would be a fool's business, and in going a little broader in its approach Eutechnyx appears to have made the right move. And regardless, playing Auto Club Revolution with keys already provides a more satisfying ride than Ferrari or Supercar Challenge did with a DualShock; Auto Club Revolution introduces a real sense of friction between the wheels and the tarmac, unlocking a more tactile ride that's evident even on a keyboard.
It all suggests that Auto Club Revolution is a game to be casually booted up on rainy lunch hours, but its social features also suggest that it's aiming for a bigger slice of the pie. On-track action takes place courtesy of a downloadable client (which comes in at a pocket-sized 15 MB, with other data and any future patches being streamed in as you play), while all of its other features are handled in-browser through the power of Unity.
It's allowed for a smooth, slick interface, and while everyone else scrabbles to imitate Facebook and Twitter Auto Club Revolution goes one step further by being so readily accessible online. Inspired by iGoogle, the front-end offers a wall of customisable widgets, offering up the customary suite of options.
There are daily challenges, a cornucopia of achievements and unlockable pins and an Autolog-like ability to measure yourself against your friend's times. With the front-end in-browser it's also managed a first of sorts - the forums are effectively in-game, a move that's as smart as it is shockingly obvious. There are practical implications to this; stumble across a particular car set-up on the forums and it be ported across with ease, an elegant alternative to the laborious process of copy and pasting that other games demand.
Auto Club Revolution's workshop is also embedded within the browser, and it's here where the game's ambitions - as well as perhaps its appeal - are further exposed. There's the ability to carry out cosmetic surgery on a pleasantly detailed car model, the paint tools aping those of Photoshop and therefore already proving more intuitive to use than other, more obtuse systems.
And then there are performance upgrades, though each one of Auto Club Revolution's bears an official license, modelled on existing aftermarket car parts. It's part of a relationship with the automotive industry that's threaded through Auto Club Revolution, with 40 manufacturers already onboard and more lined up - while there's some talk of car launches occurring in unison with Auto Club Revolution, with the stars of the Paris, Geneva or Detroit Motor Shows making swiftly timed appearances in the game.
It's these kinds of partnerships that could go on to define Auto Club Revolution, embedding it within the automotive industry and positioning it as something of a playable Autocar, a place to investigate and explore new creations in an accessible and unintimidating space. It is, in short, the kind of game that shows that our virtual car industry is learning to adapt, working towards restoring the glory that once defined it.