Atlus launches impassioned defence of Persona 4: Arena PS3 region lock
"The decision to region-lock P4 Arena was a business one."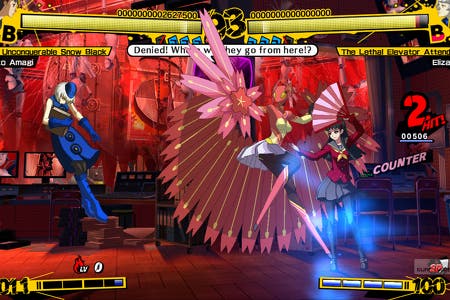 Atlus has launched an impassioned defence of fighting game Persona 4: Arena, the first region-locked PlayStation 3 game.
In a lengthy press release sent out to press overnight, the US arm of the company responded to criticism from angry importers, which it insisted had come as a surprise.
"As we've ascertained from your impassioned responses online, this is obviously a tremendous frustration for many fans," the company said.
"We understand the various perspectives on the matter. Those who fear this is a slippery slope, the beginning of a dangerous and unnecessary precedent. Those who import foreign hardware for a multitude of reasons and expect to be unlimited in their software selection. Those who aren't necessarily affected by this issue, but who are principally opposed to it.
"We are not blind to these concerns and we pledge to grow ever more informed as to exactly what our fans want. It should be added that we were completely unprepared for the force with which the community communicated their disapproval."
Atlus promised the decision to region lock Persona 4: Arena on PS3 does not indicate the beginning of a new policy. Rather, Atlus said, it is an isolated case. "Moreover, and perhaps there is no way to convince our fans of this considering the magnitude of the betrayal many are feeling, but we are not doing this out of malice or a desire to control. Allow us to explain."
It highlighted what it considers to be "a number of triumphs" for its US publishing division: the inclusion of dual language audio in the US version, and the reduction in time between the Japanese and Western release (the game goes live in the US two weeks after it does in Japan. UK publisher Pqube told Eurogamer yesterday it's working towards a 31st August 2012 release).
"We pushed hard for these things," Atlus said. "We know our fans want them - well really, EXPECT them - and we did our best to get as much for our release as possible."
Onto the burning question: why did Atlus region lock the game?
"Importing, as great as it is for gamers who otherwise can't get access to a title, can also cannibalize the performance of a title in one territory to the benefit of another," Atlus said.
"While we're all one big Atlus family, the reality is that the dramatic difference between the Yen and the Dollar makes for a dramatic difference in price. So the decision was made, perhaps at the expense of some of our fans, clearly at the frustration of many, to region-lock Persona 4 Arena."
With the decision made, thoughts now turn to the future. Atlus vowed to "earn back your confidence" and to "learn from your arguments".
"We absolutely recognize the fear that this is the beginning of a trend. We in no way view it as such. Please also keep in mind that the game's excellent online multiplayer is global, a fact that is in no way affected by the region-lock. Players can compete against fighters from all territories.
"A tremendous team of talented developers and artists poured their blood, sweat, and tears into Persona 4 Arena, and every reaction we've ever received to the game has shown that those efforts are readily apparent.
"The decision to region-lock P4 Arena was a business one, one that has very clearly affected how many perceive the project, but we ask you to please not overlook the exceptional efforts of the people behind the game and to work with us through constructive dialogue.
"Thank you."