Atari co-founder Ted Dabney dies aged 80
Tributes for video game industry legend.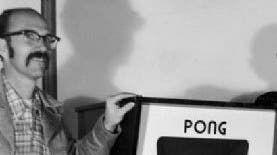 Atari co-founder Ted Dabney has died aged 80, according to a close friend.
Historian Leonard Herman, who told Dabney's story in an article for Edge magazine published in 2009, announced Dabney's death in a post on Facebook:
"I just learned that my good friend, Ted Dabney, the co-founder of Atari, passed away at the age of 80. RIP good friend. Your legacy will live on a long time!"
Dabney, who was born in San Francisco in 1937, was diagnosed with esophageal cancer in late 2017, and, according to friends, decided against treatment after being told he had eight months to live.
In 1971 Dabney co-founded Atari predecessor Syzygy with Bushnell and developed Computer Space, the world's first commercially available arcade video game. In 1972 the pair co-founded Atari, and Computer Space was used for the basis of Pong, the video game that made the company its early-days millions. Dabney later left the company after a falling out with Busnhell.
Tributes from friends and admirers are now coming in:
Crushed to learn of the passing of my friend and Atari co-founder Ted Dabney. Always so gracious and humble. Thank you for everything, Ted.

— Patrick Scott Patterson (@OriginalPSP) May 26, 2018
Ted Dabney, co founder of Syzygy & Atari has died. His vision gave my generation more than people can comprehend unless they lived in the days when Atari was born & remember when the world was changed forever by the electronic dreams that company gave us. #Atari #TedDabney pic.twitter.com/Yhmku35EdA

— Catherine DeSpira (@CatDeSpira) May 26, 2018
The video, below, is of an interview with Ted Dabney at the Midwest Gaming Classic event from 2011.