Atari adds bikes to Test Drive Unlimited 2 with new update
Due February 2012.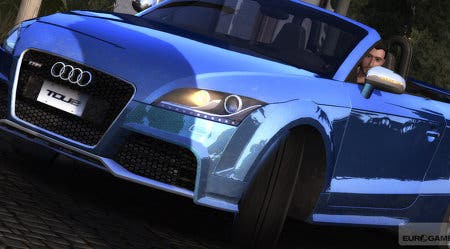 New downloadable content for Test Drive Unlimited 2 launches in February 2012, Atari has announced.
The new update introduces bikes and alongside them 16 new multiplayer challenges.
There are also new items and enhancements, including support for Thrustmaster Wheels.
The DLC notes in full:
Features:
Bikes are in place! Run to the bike dealer to buy a Harley Davidson or a Ducati. With the release of bikes, 16 new multiplayer challenges reserved for bikes were added.
3 Bikes:
Ducati Desmosedici RR (mA1).
Ducati Diavel Carbon (mA1).
Harley Davidson Fatboy Lo (mA2).
The Official Racing Center (O.R.C.) is available and gives you access to 3 new challenges every week.
New Spots:
1 new Bike Dealer.
Update The Community Racing Center (C.R.C.) spot.
Clothes Shop for Brands.
6 Cars:
Corvette ZR1.
F599XX.
Dodge Viper SRT10 ACR.
Ferrari 250 GTO.
Ferrari F40.
Mercedes-Benz SL65 AMG Black Series.
Items:
New sets of Clothes:
Fashion.
High Life.
StreetsWear.
Sportswear.
Atari.
Privilege.
Pacha.
14 Sets of Furniture:
Pop-balls.
Videogames.
Barroco.
Tetramino.
Carmania.
Yacht.
Etnik.
Vintage.
Tortilla.
Ossikle.
Waive.
Travel.
Origami.
Flower Power.
Enhancements:
Additional Enhancements:
Player could change vehicles position in house/garage.
Map: Instant Island change.
Headlight Control.
Session management.
Tuning update.
Force Feedback - Enhanced Force Feedback Management.
Support Thrustmaster Wheels.
Support D-Box Device.