Astro Bot Rescue Mission and Smash Hit Plunder light up PSVR with magic and originality
It's an Ian's VR Corner double bill!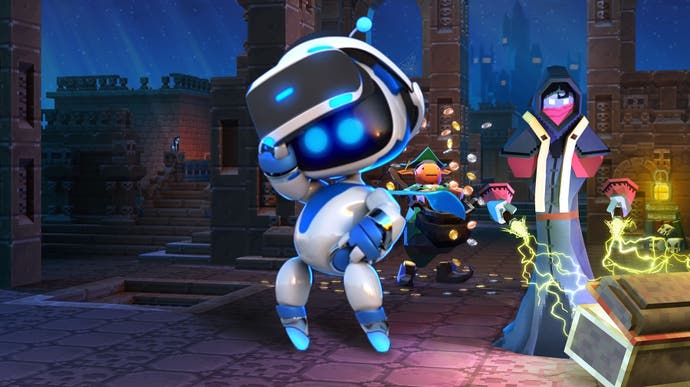 Thanks to a hectic (but amazing) EGX and a much needed holiday, this is the first Ian's VR Corner I've been able to produce for a couple of weeks. So, to make amends for my tardiness, I've decided to feature not one but two new PSVR releases in this week's post.
First up, you can find my first impressions of Astro Bot Rescue Mission in the video below. It's a perfect PSVR platformer that brings a whole load of Nintendo-esq magic to Sony's headset and you can watch me bumble, curse and fall in love with the game as I play through the first world.
There's not that much else I can say about Astro Bot Rescue Mission that hasn't already been said in Donlan's glowing review so instead I'd like to use the rest of my time here to draw your attention to another new PSVR release for this week; Smash Hit Plunder.
I first played Smash Hit Plunder at EGX where husband and wife development team, Katie Goode and John Campbell gave me a guided tour through a short demo of the game.
Imagine Super Market Sweep if it took place in a haunted castle that was made in Minecraft and you'll have a good idea of Smash Hit Plunder's vibe. The main objective in the game is to rummage your way through increasingly complex levels, upending, over-turning and smashing everything that's not nailed down in order to find as much loot as possible.
It's a race against time and the more loot you snaffle, the higher your score in the end. Colourful ghosts, creepy spiders and other creatures give you moving targets to lob the furniture at for bonus points and there are plenty of secrets that, when triggered, will reward you with fountains of gold and jewels.
Surprisingly, it was the share screen and not the loot hoovering that first attracted me to Smash Hit Plunder. The majority of PSVR titles use the share screen to mirror exactly what the player sees, but Smash Hit Plunder uses this feature to display the levels in a lovely, old-school, isometric viewpoint, reminiscent of games like Knight Lore and Head Over Heels.
This allows up to three non-VR players to jump into the game for a number of simultaneous coop and competitive modes. While this can make the action that's displayed on the share screen seem rather confusing at times, this feature opens up the game and means it doesn't have to be a solitary experience like the majority of VR games are.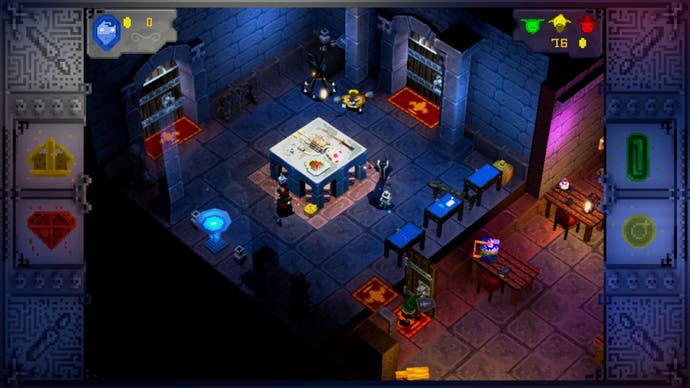 While there is a full story campaign to play through I'm not one hundred percent sure the whole 'treasure rush' aspect works well enough to base a full game around it though. The action is hampered by a control scheme which involves using the Move controller's motion controls to drag your viewpoint around, rather than just using simple button presses like, say, Skyrim VR.
This, coupled with the bizarre semi-teleport movement scheme makes navigating the castle feel quite awkward. What should feel like a frantic dash often becomes something more akin to a stop and search and this robs the game of a lot of urgency.
On the plus side, throwing the furniture around feels ace. Smash Hit Plunder has some of the most responsive throwing controls I've ever experienced in a PSVR game and the fact that the notoriously clumsy Move controllers deliver such incredibly accurate throws here is quite the impressive feat.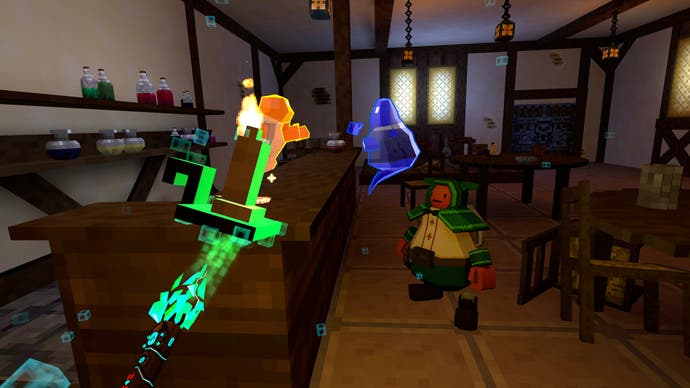 Another neat feature, but one that's perhaps useless to the majority of the audience, is that Smash Hit Plunder is the first game ever that can be played in the Cornish language. Triangular Pixel, the studio that made Smash Hit Plunder, is based in Cornwall so the team decided to get the whole thing translated into Kernewek as a tribute to their local culture.
Although the game is not without its problems, it is brimming with originality and charm and it's refreshing to see developers trying something different, rather than just going down the usual routes. If you're looking for a PSVR game that pushes the boundaries of VR and experiments with the tech you can't do much better than Smash Hit Plunder, but beware - it may not hold your attention for too long.
If you enjoyed this episode of Ian's VR Corner, you can catch up with my previous adventures over on YouTube in our VR playlist, where I get silly with Kona VR, Salary Man Escape, The Exorcist: Legion VR, Killing Floor: Incursion, The Persistence, Detached, Pixel Ripped 1989, Rec Royale, Arizona Sunshine, Transference , Zone of The Enders 2 and Downward Spiral: Horus Station.