Assassin's Creed Odyssey has upwards of four special editions
Pre-orders are live now.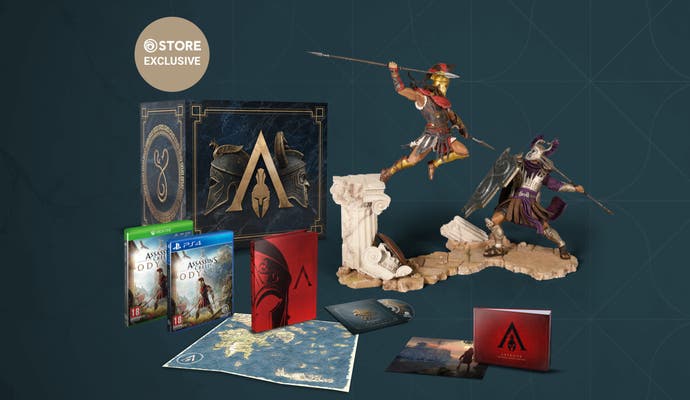 Staying true to Ubisoft's previous Collector's Edition efforts for its mainline titles, Assassin's Creed Odyssey is available in an alarmingly large array of special editions and big-box versions, all of which are up for pre-order right flipping now. They are available at the Ubisoft store in the UK and US, though some are available from other retailers as well.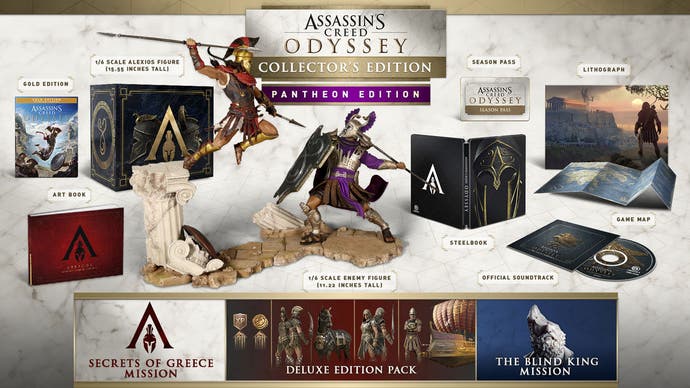 Right, I'll now attempt to detail the variety of Assassin's Creed Odyssey editions and where you can get yours if you fancy it. Buckle up.
Firstly, there's the standard edition, which will unsurprisingly be available everywhere video games are sold and presumably some places where video games aren't normally sold. This one is up for grabs at Amazon at the moment. Pre-orders will get you the extra mission 'The Blind King'.
Next, there's the PC-only Deluxe Edition, available only as a Uplay download. This version will get you the base game and Blind King pre-order mission, along with the 'Deluxe Pack' featuring various pieces of armour, weaponry, mounts and even a unique ship design as well as a temporary XP boost. This one will cost you £61.99 in the UK and $79.99 in the US.
After that, in true Ubisoft fashion, we have a Gold Edition of the game. This one comes with the base game, steelbook case, early access to the game itself, and it adds in the game's season pass. This one is up for £79.99 in the UK and $99.99 in the US.
Then we have an Ultimate Edition, which will get you the game, early access (from 2nd October), Season Pass and Deluxe Edition content, all in what appears to be a digital-only form for PC and Xbox One. This one will cost you £95.99 in the UK or $119.99 in the US.
Still with me? If none of those editions caught your eye, you can then opt to go for the Medusa Edition. This one is the first of the 'big box' collector's editions and comes with the game, pre-order bonus mission, soundtrack, 64-page artbook, 'Kronos Pack' DLC, world map and a Fallen Gorgon statue. The first 10,000 orders will also get a medal necklace added in for their troubles. This is £99.99 in the UK, though the Ubisoft store is offering it for £5 less on PC currently. Curiously, the Medusa Edition does not appear to be available in the US.
Then we have the Spartan Edition, which features everything noted previously, adds in the full Digital Deluxe DLC pack, season pass, an exclusive lithograph and switches up the statue for a slightly bigger, Spartan Leap version. This one will cost you £144.99 in the UK, $159.99 in the US and is exclusive to the Ubisoft store in both territories.
Last but certainly not least, for now at least, we have the Assassin's Creed Odyssey Pantheon Edition. This giant edition of the game features all previously mentioned content but exchanges the previous statue designs for a huge 'Nemesis Diorama', the biggest and most limited of all the editions on offer will cost you £219.99 in the UK or $219.99 in the US and, as with the Spartan Edition, is exclusive to Ubisoft's own storefront.
Okay, that should cover all the various editions of the game itself. It's notable that there are a set of collectible statues of the in-game characters for £49.99 each alongside a very limited, very expensive 'Alexios Legendary Figurine' which will cost you a whopping £659.99. That one is limited to 1900 units, by the way.
Phew, we made it to the end. If you're not already burned all of your 'treat yourself' budget this E3, feel free to check out Jelly Deals for a guide to the best father's day gifts for gamers, best Fallout merch around, and more.