Assassin's Creed 4: Black Flag preview: how Ubisoft plans to hook you back in
Sail to more than 50 locations, cities and islands in a huge open world.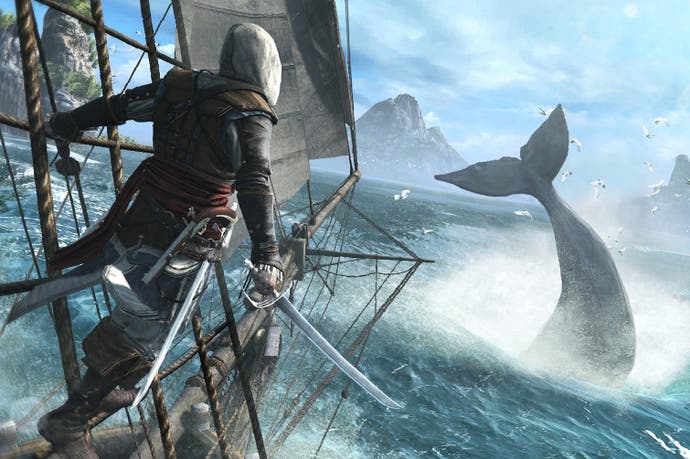 If Ubisoft's leak-ridden reveal of Assassin's Creed 4: Black Flag was a ship, it would have already sunk to the bottom of the ocean. While hundreds of journalists queued last week for their first official peek, details of the game's what, where and who were already available online: product art showing a new assassin buccaneer, a map of the Caribbean and a name - Edward Kenway, grandfather of Assassin's Creed 3's Connor.
So it was with expectation and an air of predictability that the lights dimmed and the show began. It was started, bizarrely, by an extended monologue remembering the series to date, delivered by the actor who played Finchy in The Office. Remember the original game's Masyaf, we were told. Remember the tall spires of Renaissance Italy, the crowded streets of Boston. Well, we do - for gamers, these events happened fairly recently. AC3's launch still seems particularly fresh in the memory - Ubisoft is only a third of the way through releasing that game's episodic King Washington DLC.
After the theatrics and a sales pitch, after the Assassin's Creed 4: Black Flag name was announced and banners unfurled bearing its skull-adorned logo, then - finally - a more detailed and encouraging picture of the game emerged.
Black Flag appears to be a hybrid of the series' more charismatic early-Ezio era set within a truly open world of land and sea, on a scale reminiscent of The Legend of Zelda: Wind Waker. Gone are the boundaries marking ground and ship-based missions. The transition from one to the other is "seamless", Ubisoft promised, with the "reckless and charismatic" Edward Kenway able to jump onto his ship, sail off with his crew, board another vessel, plunder their booty and pull back into harbour for a spot of grog at the local tavern - all in the same huge map.
Watch on YouTube
The developer was coy about promising no loading screens at all - some may still exist when starting missions, for example, or in other certain circumstances - but the dividing line between naval and ground based exploration no longer exists. It's a good thing too, as players will be spending plenty of time on the open ocean, travelling between the game's three main hubs and exploring the world's many extra islands and hidden secrets.
City-based exploration is still key to the series, Ubisoft stressed. Despite all the advancements in nautical navigation, Black Flag would not be an Assassin's Creed game without chases over rooftops. For that there is Havana, capital of Cuba but described as the most European-style city in the game, like AC2's Florence but under the Caribbean sun. There's also Kingston, a British town similar to AC3's Boston, surrounded by plantations and tobacco fields. Finally, players will explore Nassau, a base for Bahamian buccaneers, and the most traditionally piratey area of the game.
Not that AC4 will indulge in the parrots and peg-legs of Disney or Robert Louis Stevenson. Ubisoft was keen to stress the game's historical setting in the Golden Age of Piracy, when scores of privateers were laid off after the Treaty of Utrecht and formed close-knit alliances, some even with early democratic leanings. The game's supporting cast includes the infamous Blackbeard, vicious Calico Jack, Anne Bonny and Charles Vane, the tales of which Ubisoft has plundered. The developer promised that these were already as colourful as any Hollywood blockbuster.
It's unclear how the series' Assassins vs Templars theme fits in. A trailer narrated by Blackbeard (which has also since leaked online) shows Kenway's background being feared, and we are given precious few more details. The new protagonist is an assassin raised into the pirate world. He's brash, cocky, ingenious and charismatic - words which could easily describe another former Assassin figure. But he is also selfish, rebellious and reckless, someone who is as likely to be swinging a bottle as drinking from one. The trailer shows Kenway swooping on an unsuspecting noble who is strolling down the street with a wench in tow. The assassin strikes, plunging his blade into the target's back, before calmly placing an arm around the girl and walking on.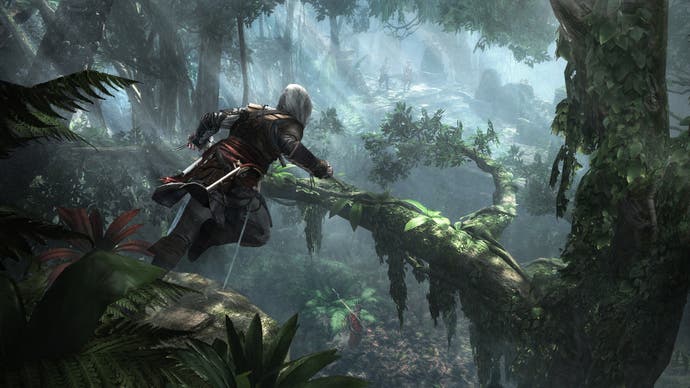 It's a welcome change from the somewhat po-faced Connor, whose circumstances and demeanour rarely lightened up past the occasional game of boules. Still, Kenway will mature a little over the course of the game and discover there's more to life than stealing and piracy, which ties in with the little we already know of his later exploits from the AC3 tie-in novel Forsaken.
But before all of that, Kenway and players will get the largest stomping grounds of any Assassin's Creed to date, far more than just the above three main settlements. Ubisoft is building 50 locations for the game, dotted around the Caribbean map for players to uncover. These include hidden coves full of smugglers, smaller fishing villages where you can undertake side-missions and find upgrades, remote tobacco-rich plantations for some land-based piracy, the series' traditional forts, more Mayan ruins, coconut tree desert islands where you can pick up marooned men for your crew and thick, dense areas of jungle to explore.
Exploration beneath the waves is now possible too. Lowered down using an authentic period diving bell, Kenway can explore submerged wrecks that lie on the ocean bed bursting with treasure. You'll also have to contend with the local wildlife and, in one rather Far Cry-esque instance we were shown, be able to stab a shark in the face with your cutlass.
Above the waves, Ubisoft has put thought into how to keep boat-based travel interesting. At any time when sailing you'll be able to take out a spyglass and spot side-missions and random events open to you - a new island to explore, a convoy to attack, the Navy in hot pursuit, or wildlife to hunt down (you can even harpoon whales, PETA will be pleased to find out).
The game's "second main character" is the Jackdaw, Kenway's ship, which will grow as players progress thrughout the game. 60 metres long with 26 sails, she vastly outguns AC3's Aquila. Players will start with six cannons but can add another fifty, and employ additional upgrades such as swivel guns and explosive mines. Using the spyglass, you'll be able to quickly analyse other ships nearby, note their bounty on board (measured in rum, gold, clothes and special items) and judge a plan of attack. Ship characteristics and classes now vary beyond simple sizes. Some vessels will charge you down and attempt to ram you, while others will hold back and blast you from afar.
Keeping the Jackdaw operational will require you to recruit a crew, another new element to the series. But instead of the named Assassins who've fought alongside you in other instalments, these deckhands will be mercy to the perils of piracy, and will be lost in Pikmin-like numbers to battle injuries or environmental dangers such as typhoons. They will also join you when you board ships, with players now able to manually command when this occurs during battle. Your crew then launches grappling hooks at your enemy and locks the two ships together, before swinging across to continue the fight man-on-man. Kenway will leap across with them or choose other, sneakier approaches - by climbing the ship's rigging to perform precision aerial assassinations, or by swimming around the ship and stealthily snatching foes over the side.
Away from the main campaign, you'll be able to revisit many of the game's locations in another huge multiplayer offering (expect new characters, maps and modes) and be able to probe Kenway's activities from the present via a seemingly-reduced modern day section. You now play as a researcher working within Abstergo Entertainment (a fictional front company of the evil Templars). It seems any direct continuation with Desmond's crew is unlikely, although the fallout of AC3's finale is certain to be addressed in some way.
Each year a new Assassin's Creed is announced, and each time there's a debate on whether the latest entry will mark a revolution to the annual franchise or a mere evolution. AC4 is certainly no rush job - work began in summer 2011, meaning Ubisoft will have been working on the game for a good two-and-a-bit years by the time of its release, using no less than eight studios. And with more than six months still to go, there's likely much that Ubisoft is still keeping under wraps.
But already there's a great deal to be excited about. True, the game's ship systems and a few of the more exotic locations could be found in simpler forms in AC3. But Black Flag's enormous scope and engrossing sense of character seem certain to outdo AC3's political parable and sometimes spartan settings. Most importantly, regardless of whether it's all-new, part-new, an annual money-spinner or already leaked everywhere on the internet, Assassin's Creed 4: Black Flag looks fun. It appears to recapture the playfulness lost in recent entries, and already makes me want to be behind the Jackdaw's wheel, with an open map to explore and a weather eye on the horizon.