Ashes Cricket 2009
Super bowl?
With bowling, the power meter from Lara has been dumped in favour of a timing bar that determines accuracy - with the margin between hitting the sweet spot and chucking out a no-ball perilously fine.
When a fast bowler is selected, LB and RB switch between the types of delivery (swing, cut or reverse swing, if the ball's old enough), then A bowls it straight while X and B turn it to the relevant side (with LT and RT employed to add extra turn where applicable).
Spinners can select between Spin and Slide, with Leg, Flip, Top and Wrong (the controversial Doosra) mapped to the buttons. You know you're onto a winner when the tutorial instructs you to, and I quote, "Press the WRONG 'UN button". A bowler's ability to pull a 'Gatting ball' out of the hat depends on individual stats. Swing is further affected by the in-game weather conditions.
Once a delivery is selected, an aiming reticule appears (defaulting to ideal line and length), which can be repositioned before you press again to bowl. Timing with the bat is a more mysterious art, and in the absence of any real-time meter, you're advised to watch the ball and press accordingly, directing your shot with the thumbstick.
Another vital factor to consider is confidence. Mental strength in a test match is every bit as crucial as sporting ability at the highest level. To maintain composure and perform over five consecutive days requires immense reserves of self-belief. Not for nothing is it called 'test' cricket.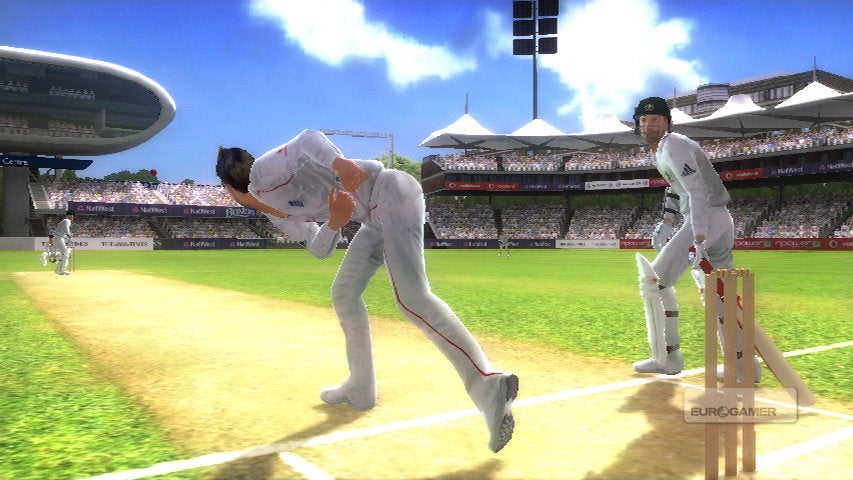 This is reflected in the game via a confidence rating for each player, a graded scale comprising Timid, Hesitant, Confident, Bold and Fearless, its position determined essentially by form. A bowler smashed around with contempt will start doubting his technique and lose focus; equally a batsman struggling to score a run is more liable to self-destruct in a moment of ill-judged madness. Confidence can be quickly regained, however, with a spate of wickets or a few imperious boundaries.
That's the premise for the AI; for your own team, although it isn't glaringly apparent during the couple of innings I play, in theory it should be an extra factor in determining accuracy. In the real thing, sledging - slagging off the opposition to unsettle them - became a brutal art form and deadly psychological weapon under the Aussies. It's what former skipper Steve Waugh charmingly refers to as "mental disintegration".
Sadly, Transmission has failed to code in any facility to employ foul abuse. But online play creates the conditions for live sledging; and I have no doubt the internet community will duly oblige. Asked for any tips, KP helpfully suggests I call any Aussie gamers "convicts" and take it from there.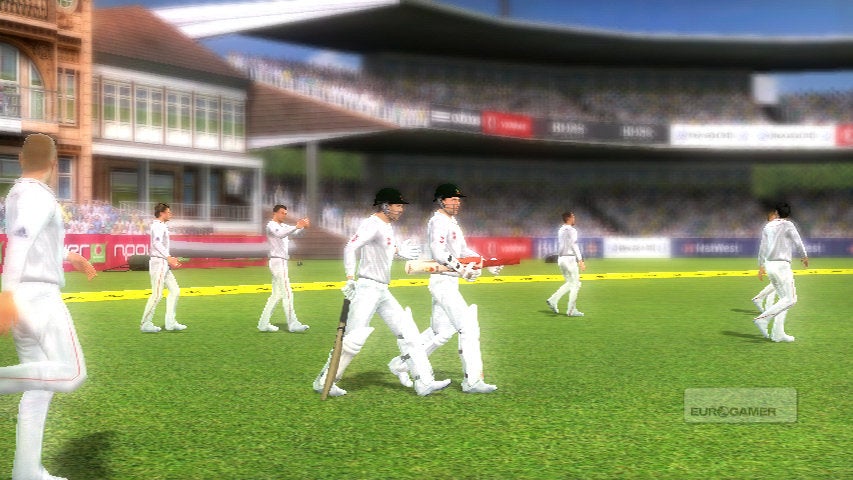 A quick word on fielding. A wide range of preset formations are available, with the option to set your own custom fields. Fielding itself is automated in the main, though you can choose which end you throw the ball back to from the outfield. And catching takes the form of a close-up Quick Time Event. I have little love for QTEs, but here it actually works pretty well in creating a snap moment of drama, proving all too easy (in my cack-handed case at least), to mistime and bugger up. Just like Warney in '05.
With the best will in the world, presentation is resolutely 'no frills', a far cry from the polish and attention to detail of an EA Sports spectacular - more PES than FIFA, if you like. And that applies to the hit-or-miss likenesses, too (Flintoff looks like a fuzzy Pac-Man).
In the commentary box, Beefy and Warney are joined by the experienced and loquacious likes of Aggers and Tony Grieg. In the tutorials, with scripted delivery, I've heard livelier eulogies; but in-game once they loosen up a bit and go off on one there's some decent, insightful chatter on offer. And Hawk-Eye is a nice addition for anoraks, popping up at the end of each over with CBeebies-bright diagrams of your bowling/batting genius/shame.
Will you support Eurogamer?
We want to make Eurogamer better, and that means better for our readers - not for algorithms. You can help! Become a supporter of Eurogamer and you can view the site completely ad-free, as well as gaining exclusive access to articles, podcasts and conversations that will bring you closer to the team, the stories, and the games we all love. Subscriptions start at £3.99 / $4.99 per month.