Ark is getting a Minecraft-like spin-off, and it's heading to Steam and Xbox early access soon
UPDATE: Steam and Xbox One early access begins!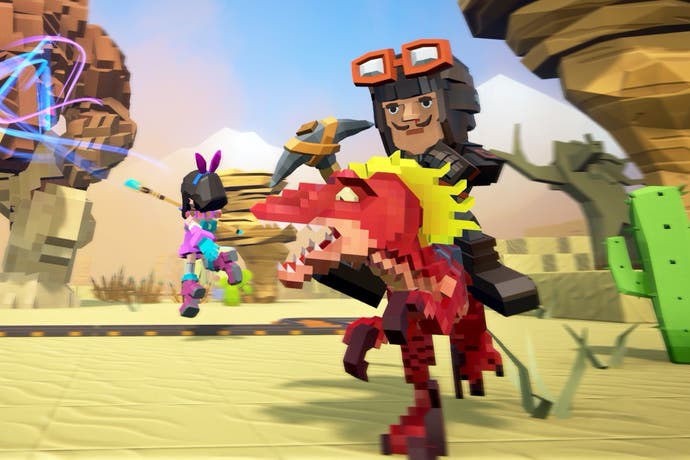 Update, 27/3/18: Ark: Survival Evolved's intriguing Minecraft-like spin-off PixArk is now available in Steam Early Access and on Xbox Game Preview.
PixArk aims to offer a dinosaur-themed survival experience similar proper Ark, albeit in a more cheerful, accessible package. Its initial early access release includes crafting and base building, character progression and customisation, procedurally generated worlds and questing, eight biomes, over 100 creatures to tame and ride, a Creative Mode, plus single-player and online multiplayer modes.
Developer Snail Games notes that while multiplayer is currently live on Steam, it will launch on Xbox Games Preview in approximately two weeks. Additionally, it says that the final game will include "a great deal more content" compared to the initial early access release, and that the studio will share its development roadmap as work continues.
To celebrate its launch, PixArk is currently discounted to £15.59 / $19.99 USD on Steam for the next week, down from its usual early access price of £19.49 / $24.99 USD. Once early access is ends later this year, PixArk will launch on PS4 and Switch, as well as PC and Xbox One.
---
Original story, 25/1/18: PixArk, an official Minecraft-inspired Ark: Survival Evolved spin-off, is heading to Steam Early Access and Xbox Games Preview this March, developer Snail Games has announced.
PixArk was unveiled late last year and is the result of a licensing deal with original Ark developer Studio Wildcard. It's an open-world sandbox game that takes the core elements of the main Ark series - survival, dinosaur taming, crafting, base building, and co-operative tribe living - and re-assembles them as a more casual, Minecraft-esque experience.
According to its Steam Early Access page, PixArk will feature a robust character creator and progression system (complete with skill trees and customisable stats), a voxel block building system, procedurally generated quests, an "infinite number" of voxel based maps featuring deserts, jungles, caves, and more, plus 100 voxel-ized Ark creatures to tame, train, and ride.
PixArk can either be played solo or by teaming up with friends to work together as a tribe, and there looks to be support for both local and online multiplayer.
"Spend your time building a towering fortress or go on a quest in a sprawling cavern", says Snail Games of PixArk, "Fly on the back of a dragon and smite your enemies with a magic wand, or ride a mighty T-Rex and blast your foes with a rocket launcher. In the world of PixARK, how you play is up to you - as long as you survive!"
PixArk is due to launch on Xbox Games Preview and Steam Early Access this March, according to Snail Games. The full version will release on PC, PS4, Xbox One, and Nintendo Switch, and is expected to arrive later in the year. And speaking as someone that's played way too much Ark and Minecraft, I'd be lying if I said I wasn't at least a little bit intrigued.