Apple Arcade: Cricket Through the Ages is a funny game about hitting things
Wicket cool.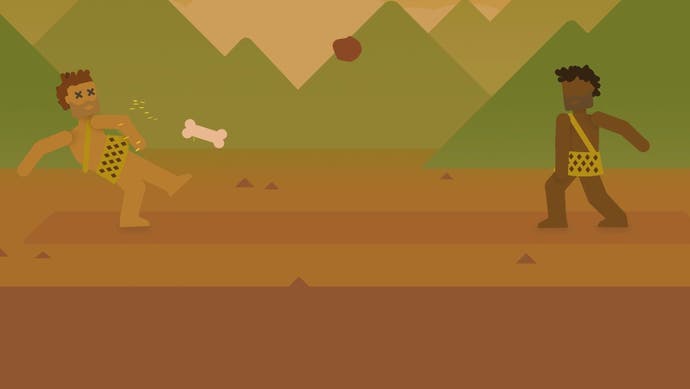 I have not seen all, or perhaps even most, of Cricket Through the Ages. I do not know how deep the tunnel goes, how dark and terrifying the discoveries. However, if you were worried that Apple Arcade would launch without a game that allowed you to hit an astronaut in the head with a lump of rock or whatever it is, worry no more.
Cricket Through the Ages is 2001: A Space Odyssey with a bat instead of a Monolith. As an Attenborough-alike whispers expectantly through the script, we move from dinosaurs and cave men through knights and armour and up, up into distant solar systems. The rules remain the same, though. Press and hold the screen to wind up a throw, release to, well, release, and then, if anyone's still alive, tap madly to lump your way across the ground and finish them off.
It's one v one, each occupying half the screen, everything delivered with the loose-limbed comedy clumsiness of games like QWOP. Except sometimes it isn't. Sometimes you're tapping the screen to launch a space shuttle. Sometimes you're sitting and watching as the shuttle veers off course and explodes.
Everybody in history, the game argues, has hit someone with a bat or a ball at least once. The fun comes from the iterations, the pay-offs, the hectic physics of the whole thing. Cricket Through the Ages is great with two players, but it's actually pretty brilliant with just one. A joke you can laugh at by yourself: not bad at all, frankly.