Apple announces iPhone 5S and 5C
iOS 7 dated for next week.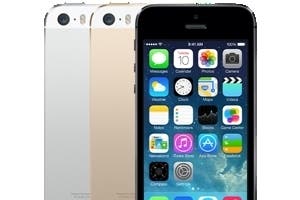 Apple has announced two upcoming phones today: the iPhone 5S and the iPhone 5C. iPhone 5S is the the more advanced of the two and Apple's Phil Schiller called it "the most forward-thinking phone we've ever created" during the company's press conference earlier today (thanks, Endgadget).
It hosts a number of advancements, but chief among them is the A7 chip, which has twice as many transistors as the A6 chip. "The CPU is twice as fast, and graphics are twice as fast as well," Schiller stated before noting that it's 40 times faster than the original iPhone.
The iPhone 5S will also feature a much improved battery life that lasts for 10 hours 3G talk time, 250 hours in standby mode, 10 hours LTE browsing, or 40 hours music playback.
This upcoming model also hosts a nifty new camera that has a 15 per cent larger sensor area with an 5-element Apple designed lens with f/2.2 aperture. I think that means it's better.
More excitingly, it will have a Touch ID fingerprint sensor. This means you'll be able to buy stuff and login without having to type in a pesky password - though that will remain an option should the sensor not register correctly for any reason.
Available in three colours - gold, silver, and black - this spruced up top-of-the-line model will be in stores on 20th September in the UK, US, Australia, Canada, China, France, Germany, Japan, and Singapore.
Without a contract they cost £549 / $649 for the 16GB, £629 / $749 for the 32GB, and £709 / $849 for the 64GB.
In the US with a two year contract they will retail at $199 for the 16GB version, $299 for 32GB, and $399 for 64GB with a two-year contract. The cases will be $49 each. If that's too steep for your blood, Apple also announced the iPhone 5C, a slightly modified iPhone 5 that functions as a budget-priced alternative to the 5S. Described by Schiller as "beautifully, unapologetically plastic," (yes, really) the iPhone 5C will only feature the A6 chip, but it will have a few perks over the oldschool iPhone 5, like an improved Facetime HD camera.
The iPhone 5C will be available in green, white, blue, pink, and yellow on 20th September as well, where it will retail for $99 for the 16GB model and $199 for the 32GB model with a two-year contract. Its quirky, Swiss-cheese patterned cases are $29 each.
Purchasing it without a contract goes for £469 / $549 and £549 / $649 for the 16GB and 32GB models respectively. It will be available for pre-order on 13th September.
Curiously, the vanilla iPhone 5 has vanished from Apple's online store to make room for its newer, sexier successors. But fans of rustic tech on a budget can still acquire the 8GB model of the iPhone 4S for free with a contract or for £349 without one.
Elsewhere, Apple is rolling out its new operating system, iOS 7, on 18th September for iPhone 4+, iPad 2+, iPad mini, and 5th-gen iPod touch. Such useful Apps as Pages, Numbers, Keynote, iPhoto and iMovie will be free with this impending update.