Another World
Run Project 23.
Touchscreen controls are elegant in design and largely satisfactory in implementation (to be fair, lag and a certain degree of imprecision were always part of Another World's DNA anyway). There are two options to mess around with. First up, there's a virtual d-pad and action button, both of which work well but are curiously un-entertaining to use, possibly because of an absence of haptic feedback. Then there's a much smarter set of gestural inputs that have you tapping each side of the playing area to move, swiping to run or jump, and jabbing at a bottom corner to fire a weapon or interact with scenery.
This isn't a bad set-up - I'd call it nifty, if I was a 1950s ad man with a pipe and an unhappy marriage - and it even manages to cope with the game's hectic fire fights, which, in one of Another World's smarter moves, allow you to summon shields and shield-destroying mega-blasts as well as just straight-up shoot people.
The only times that control ever becomes an issue are when you're dealing with sudden stops or turns on tight ledges - there are around two or three such moments in the game - and towards the middle of the adventure, where Chahi's plot leads you underground and the whole thing takes a sudden lurch into precision platforming territory. Even then, mind, you'll get through the tough stuff before things become truly frustrating.
And, looking back, frustration does seem to be an inevitable by-product of Another World's template anyway. This is a short but extremely taxing adventure, and you pay for its cinematic ambitions - a gunfight on a battlement while your buddy crawls to your rescue behind you, an execution puzzle involving an enemy's reflection in a glass orb - with a handful of sequences where the game's ability to point you in the right direction fails, and you're left wandering around trying to work out what the ancient design demands of you.
So how does it fit into today's gaming landscape? That largely boils down to a question of how much audiences have really changed in the last twenty years or so. Are they less willing to flail around in confusion for a few minutes to enjoy something stylish and strange, and less likely to tackle a platforming gauntlet for the tenth, eleventh, twelfth time just to see what's beyond it?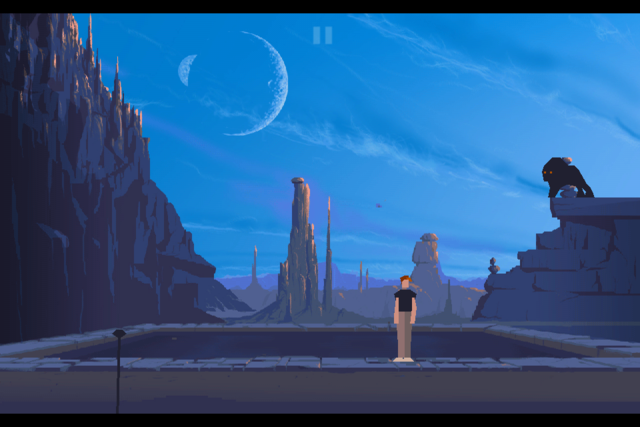 The evidence, I guess, is contradictory at best. On one hand, the likes of Jetpack Joyride suggests a very good way for designers to make money is to release games that you can't really lose, where even death sees you earning a couple of coins and working towards a few achievements. On the other hand, the palpable excitement building up for Dark Souls - a proposition that sells itself brilliantly on the promise that it will kick your teeth in every few minutes - argues that quite a lot of people still want a challenge, and don't even care if it's a fair one.
In truth, it's probably safest to simply agree that there are now far more easily recognised audiences for games - a state of affairs that is probably good for everybody. It's definitely true of Another World. If you're from the crowd that remembers it the first time around, you'll get the chance to revisit an artful and wonderfully atmospheric gaming oddity filled with sudden deaths and clever set-pieces. If you're new to it, you're probably in for an hour or so of intrigued confusion, followed by a quick trip to a FAQ.
Either way, Eric Chahi's classic is still worth checking out. After all, they really don't make them like this anymore.
Will you support Eurogamer?
We want to make Eurogamer better, and that means better for our readers - not for algorithms. You can help! Become a supporter of Eurogamer and you can view the site completely ad-free, as well as gaining exclusive access to articles, podcasts and conversations that will bring you closer to the team, the stories, and the games we all love. Subscriptions start at £3.99 / $4.99 per month.