Anita Sarkeesian cancels university speech following school shooting threat
"The whole game industry must stand up against the harassment of women."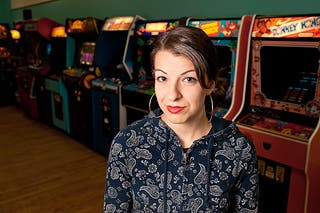 Feminist media critic Anita Sarkeesian has cancelled a planned speech at a North American university after staff received an anonymous email threatening "the deadliest school shooting in American history".
Sarkeesian, creator of The Tropes vs Women in Video Games project, said she was forced to cancel her talk at Utah State University because the police "wouldn't take steps to prevent concealed firearms at the event".
She had requested pat downs or metal detectors following the threat, but because of Utah's open carry laws police would not perform firearm searches.
To be clear: I didn't cancel my USU talk because of terrorist threats, I canceled because I didn't feel the security measures were adequate.

— Feminist Frequency (@femfreq) October 15, 2014
The Utah State University's website confirmed the decision, alongside an explanation of its position:
"Sarkeesian was informed that, in accordance with the State of Utah law regarding the carrying of firearms, if a person has a valid concealed firearm permit and is carrying a weapon, they are permitted to have it at the venue."
USU said it had consulted federal, local and state law enforcement, including the FBI, and decided it was safe to give the go-ahead to Sarkeesian's speech.
"After a careful assessment of the threat it has been determined it is similar to other threats that Sarkeesian has received in the past," USU said in a statement hours before the cancellation was announced, "and all university business will be conducted as scheduled tomorrow."
The Standard Examiner published the email sent to university staff. It contains disturbing threats that promised a "Montreal Massacre" style attack would be carried out. The anonymous author of the letter claimed to be a student at the university and in possession of a semi-automatic rifle, multiple pistols and a collection of pipe bombs.
"Feminists have ruined my life and I will have my revenge," reads the letter, "for my sake and the sake of all the others they've wronged."
The letter does not mention GamerGate, a controversial online movement that has criticised a number of video game developers as well as the gaming press for perceived ethical issues. But GamerGate has also been accused of being little more than a hate group, spearheading misogynistic abuse - including against Sarkeesian herself - that could drive women from the industry.
For Sarkeesian, whose USU presentation was set to discuss the portrayal of women in video games, this is the latest in a string of disturbing threats. In August she was driven out of her home after receiving online abuse.
Sarkeesian remained bullish on Twitter, however, insisting that she will continue her work.
I'm safe. I will continue my work. I will continue speaking out. The whole game industry must stand up against the harassment of women.

— Feminist Frequency (@femfreq) October 15, 2014
It's been a troubling week for women in video games. On Friday 10th October Brianna Wu, developer of Revolution 60, said she was forced to leave her home after graphic sexual threats were made against her.