Animal Farm video game out this autumn
Orwell that ends well.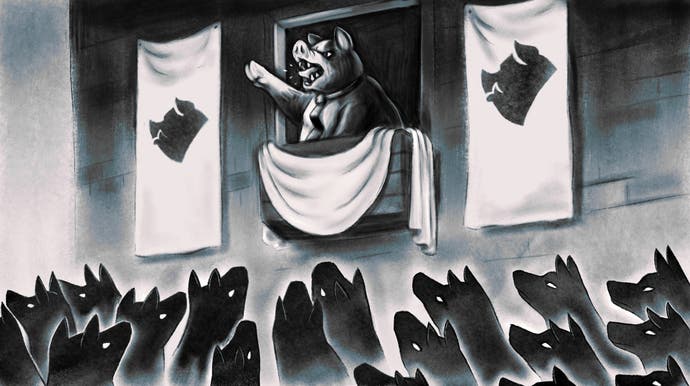 The Animal Farm video game comes out this autumn, its developers have announced.
The game based on George Orwell's seminal novel launches on PC and mobile.
The developers at The Dairymen and Nerial are working with the full endorsement of the Orwell estate, they said.
"Animal Farm will be an adventure game that immerses players in Orwell's story," reads the official blurb. "By choosing which of the animals' wishes they follow - and who is ignored or sidelined - gamers will influence the critical events that define the fate of the farm. Players must devise strategies to balance resources, defend the farm, and keep the animal population happy. With its evocative 1930s painterly graphics, Animal Farm puts the player at the centre of an allegorical revolution and enables them to experience firsthand the corrupting nature of power."
It's the work of The Dairymen (Andy Payne, founder of Just Flight and AppyNation, and Imre Jele, founder of Surgeon Simulator's Bossa Studios), and Nerial, the creators of the BAFTA-nominated Reigns series. Emily Short (Galatea) is on writing duty. It's narrated by Abubakar Salim (Bayek in Assassin's Creed: Origins). His performance was directed by Kate Saxon, who has worked on a series of high profile video games including Everybody's Gone To The Rapture, Alien: Isolation, The Witcher 2 & 3 and others.
Imre Jele said: "Animal Farm is a literary masterpiece which uses deceptively simple language to accurately describe the downfall of communism from the dream of equality into totalitarian oppression. The fate of the farm was all too real for me growing up in totalitarian Hungary.
"History seems to repeat itself. And once more, Orwell's classic has become a painfully relevant warning as some Western democracies started using tools and language eerily similar to those of oppressive regimes of the past.
"I've long wanted to explore how, through video gaming, we could design an experience which immerses the player in Orwell's vision, and in Nerial we found the perfect partner to make this happen."