Animal Crossing New Year's Countdown: Start time and items in New Horizons explained
Paint the town Redd.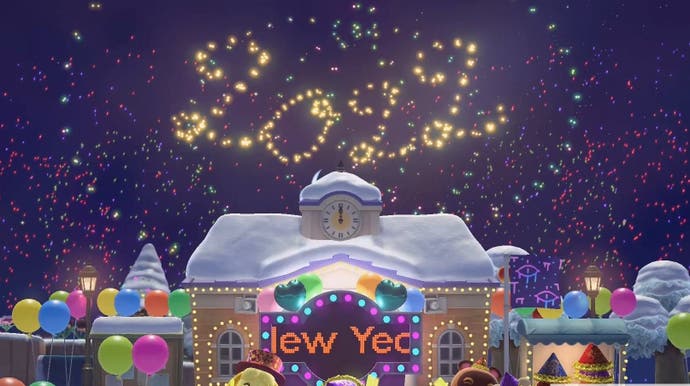 The New Year's Countdown is how the citizens of your island celebrate the end of one year and the beginning of another in Animal Crossing: New Horizons.
During this event, you can collect a number of New Year's items that will help you celebrate midnight in style.
First, however, it's a good idea to know the start time for the New Year's Countdown, so you don't miss out on all the fun.
On this page:
Start time for New Year's Countdown in Animal Crossing: New Horizons explained
The New Year's Countdown in New Horizons obviously takes place on 31st December every year.
From 5am - the daily island reset time - on December 31st, you'll be able to find Tom Nook and Isabelle standing outside Residential Services next to a timer counting down the final hours of the year.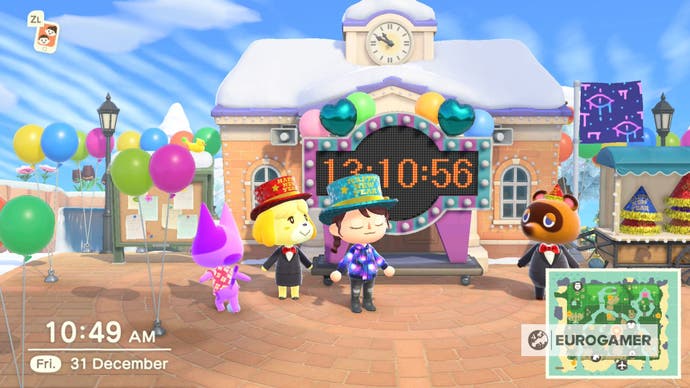 While Tom and Isabelle will be in the plaza all day, the New Year's Countdown itself doesn't start till 11pm. At this point a number of your villagers will travel to the plaza and, when midnight comes, the fireworks will fly.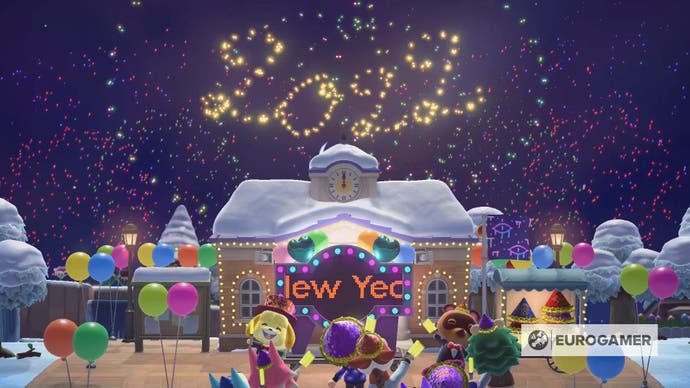 Since the pair are outside, and the timer is blocking the door, Residential Services will be closed for the entire day. This does mean that you can't complete any Residential Services related tasks, such as moving buildings or setting ordinances, but it's not like either of them get many days off...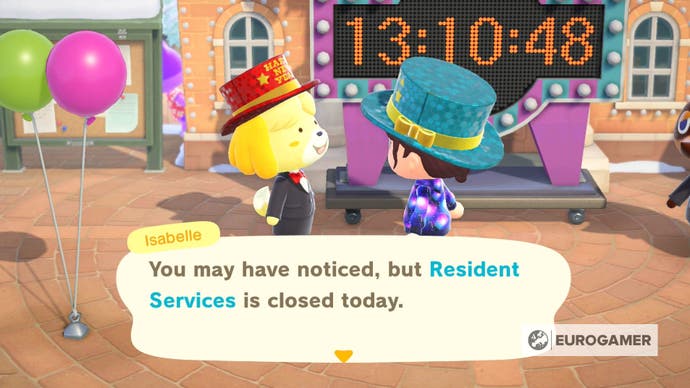 New Year's Countdown items in Animal Crossing: New Horizons explained
There are a number of items you can get to help you celebrate the New Year's Countdown in New Horizons.
The first is the light stick, which Isabelle will give you at any point during the day. You can hold this item and wave it about when the new year begins.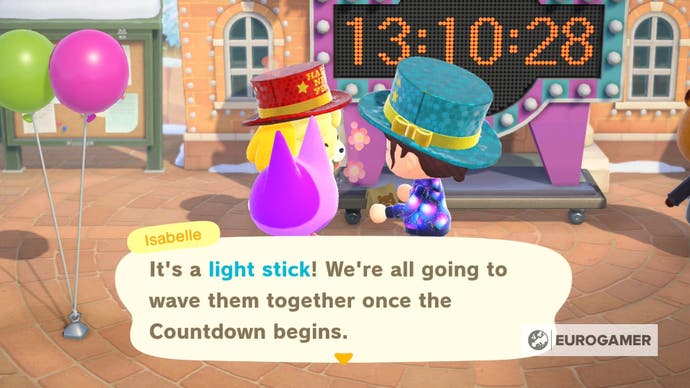 Tom Nook has gone back to his shopkeeper roots for new years by selling New Year's hats and party poppers. He will also give you a set of party poppers for free the first time you talk to him during the event.
A pack of five party poppers will cost you 300, while a New Year's Hat costs 500 Bells. When it comes to the hat, there are four colours to choose from - red, orange, blue and purple.
He will stop offering these goods when midnight comes.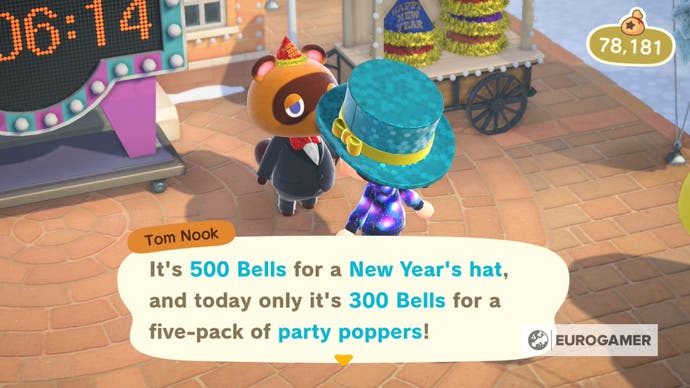 Finally, you can also order a range of New Year's related items from the Seasonal section of the Nook Shopping app; some of these items will be available until 31st December, while others stay till 5th January.
Remember - you can only buy five items a day from the Nook Shopping app, so choose carefully.
Here the New Year's items, along with the Bell cost, from the Nook Shopping app:
Available till 31st December
Fizzy apple juice - 1,000 Bells
Twelve-grape dish - 1,200 Bells
Berliner - 1,200 Bells
Olivier salad - 1,000 Bells
New Year's noodles - 1,300 Bells
Available till 5th January
2022 celebratory arch - 2,022 Bells
Yut Nori - 1,300 Bells
Kadomatsu - 2,580 Bells
Otoshidama envelope - 500 Bells
Kagamimochi - 1,800 Bells
New Year's shimekazari - 2,000 Bells
Osechi - 5,000 Bells
Zodiac figurine - 1,600 Bells
The Zodiac figurine will be for the Zodiac member assigned to the coming year.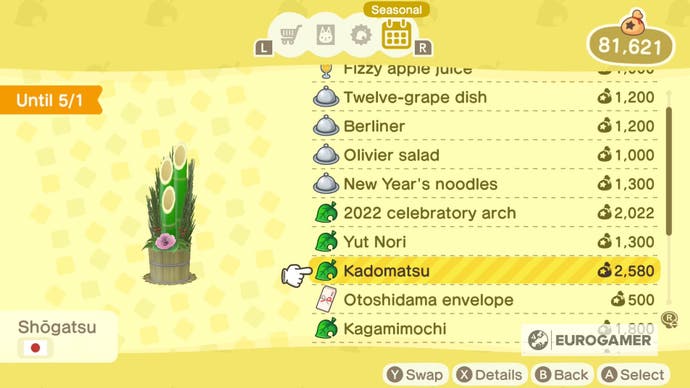 ---
The Animal Crossing 2.0 update and Happy Home Paradise is here! We can help you with the new additions - including where to find Brewster, Gyroids, new villagers, ordinances, new fences, storage shed, new hairstyles, Froggy Chair, group stretching and Kapp'n boat tours. Cooking is now unlockable, so you need to know how to make both flour and sugar, as well as how to grow carrots, potatoes and tomatoes. Meanwhile, if you're new to Animal Crossing, our New Horizons tips can help with the basics. From the off, there's fish and bugs to catch, flowers and fruit to grow with. One long term goal is building your Happy Home Academy score. Finally, you need tools such as the new ladder and vaulting pole to fully explore.
---
Hope you have a very Animal Crossing New Year!