An audience with Syndicate
How a regular northern teen became a YouTube gaming sensation.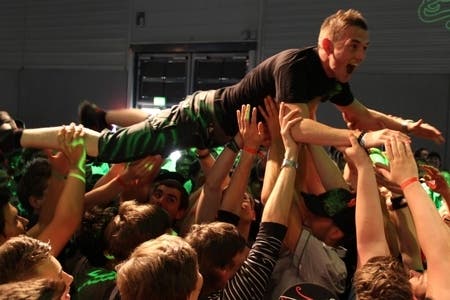 I'd finished my interview with Tom Cassell, and it had gone fairly well. Although, something did feel like it was missing. "Would you mind if I walked with you for a bit?" I asked. "So I can see it happen?" Tom was enthusiastic - he is about most things. So we took to the floor of the Eurogamer Expo.
It happened as soon as we stopped walking. Phones started to come out and take photos. Small children nervously stood behind him with Expo tickets for him to sign. Teenagers came up to shake his hand. Tom, known as The Syndicate Project on YouTube, began to hold court as a crowd of fifty people coalesced around him in under thirty seconds.
Tom has 1.4 million subscribers to his YouTube channel and has had well over half a billion video views. His YouTube channel is only two years old. He is part of a phenomenon that the gaming industry has been slow to react to - but one that I believe, as the legions of YouTuber fans get older and more widespread, will increasingly come to define it.
Tom captures video of himself when he plays games - talking about what he's doing with the loud end of an AK47, but also about what he's up to his in life. That's it. That's the magic.
So is Syndicate a gaming celebrity? "Don't say the c-word!" comes a wide-eyed and instant response. "People will think that I think I'm a celebrity. 'Known' is fine. If you say that you're a celebrity on YouTube, people will kill you." The reality of his life, and his down-to-earth nature, is all part of his appeal. For the middle-teens that form the core of his audience he's a cool older brother - or perhaps the kid everyone wanted to be friends with at school. To take on airs and graces in front of the turbulent comment threads of YouTube would be career suicide.
Of course, however, his tremendous success has brought about a life that few could see as their own reality. "I'm living at home at the moment, and I've finally purchased my own property," he says. "I'm a home-owner at 19 which is pretty cool. I'm staying local to where I've always lived. I've got three ultimate goals in life - a job in the games industry, to travel the world, and create my own house. I used to like a lot of Grand Designs. So with the house I bought - I'm knocking it down. I'm going to build my own dream gaming house."
Tom doesn't like to talk about it ("There are too many people in the industry who just ask 'Tell us how much you earn!' Do I ask them how much they earn? It's just courtesy: a bit of respect. It's something that I try to keep private,") but the cash he's reeling in is stratospheric. As a YouTube partner he earns cash from how many views and clicks video adverts receive, and how many clicks banner ads get. Add sponsorship into this, and young Mr Cassell is riding on a wave of fivers. When he broke a million followers YouTube gave him a 24-carat gold plaque in the shape of a 'subscribe' button.
As a games writer who dates from the near-dead print era, when I talk to Tom I feel like a dinosaur, and perhaps a little jealous. An initial browse of his channel for anyone who's above a certain age (for convenience, let's say the age at which you move from Radio 1 to 6 Music - or Radio 2 if you're buttered that way) is confusing - and some of the terms he's turned into catchphrases aren't suitable for a family publication like Eurogamer.
Any grumpenpuss assumptions I had that his success is a fluke, however, start to evaporate the longer I hear him talk. Yes, his success was built piggybacking the right game at the right time (Call of Duty: Black Ops - Zombies mode in this case) but there's a business mind whirring behind his broad northern charm, wide eyes and emphatic arm motions.
"When I was younger I sold drinks at school," he says. "I used to lug 40 drinks in with me in a crate every day, so at the age of 15 I managed to save up for a 42-inch plasma. I had the world's smallest room and this massive TV on the wall! I set myself a goal: if I want something I've got to pay for it myself. My dad's always brought me up that way."
Inspired by montages of no-scope sniper kills, Tom first armed himself with a capture card four years ago - going through several false starts before hitting the big-time when he knuckled down with The Syndicate Project. "At the time there were maybe a few hundred other people doing it on YouTube - because it was pretty expensive," he explains. "You had to get a recording device that was in Standard Definition. There was a guy called Shaun Hutchinson, also known as Hutch, and he didn't just post these sniper kills just as kills - he did a commentary over it. He talked about his life and gameplay. You'd learn about who he was - you'd grow a personality around him. You'd become a fan of who he is, and what he stands for. I still look up to him to this day."
The Syndicate Project itself was born on 3rd September 2010. "When I started it up the really big players had 200,000 subscribers - and I was thinking I was going to conquer the world with one! Before you knew it, though, my subscriber count was growing and growing - just from me playing Zombies and teaching people how to get better. I wasn't really doing the personal side of it just yet, but the people in the comments were asking me where I was from, what I studied and where I went to school. Then they said, 'Talk about it in a video.'"
The more successful Tom's YouTube channel became, moving into other games like Minecraft when he broke the 500k barrier, the more it became a gaming version of Edtv.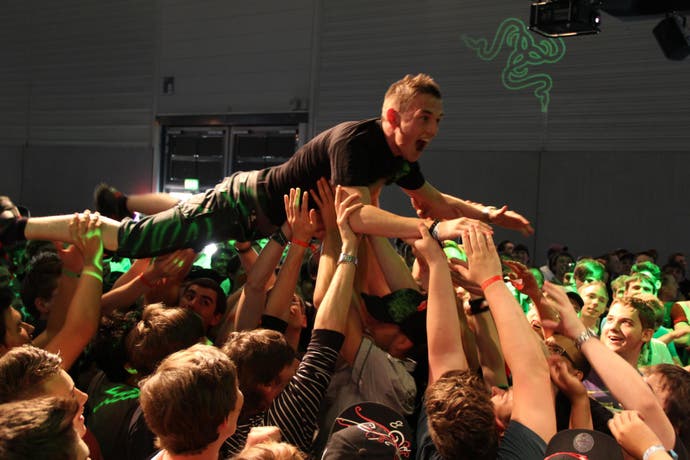 "Before you know it your personality is growing," he says. "You feel that you're talking more to friends than random people on the internet." To this extent a lot of the appeal of The Syndicate Project is Tom himself - his travels around the world, his visits to gaming conventions, his romance with his American ladyfriend, his love of extreme sports and his views on the world at large.
This isn't without its drawbacks. It's clear that his bank balance and peer popularity has crystallised those who he considers are close friends through thick and thin, and those who aren't. "I've kept my real friends really close," he explains. "There are some people who've said that if they were earning all this money they'd pay for my friends to do this, or that… Well, no! Don't be like that at all!
"I've got a lot of friends who are really supportive, but then there are ones who are bitchy about it. I don't want to say they're jealous, but they think, 'Well, I started a YouTube channel at the same time - and I haven't made it.' They act so hard done to because they haven't blown up so large on YouTube. Then their friends encourage them to do a video with me, so they can earn money off it..."
The world of the teenage YouTuber seems to be one of high drama indeed, an ongoing reality soap witnessed by millions. Occasionally, however, life on YouTube and life in a quiet village just outside Manchester can converge uncomfortably. Tom has had people appear on his doorstep who've worked out where he lives, from a combination of the route to college he once took in a video and much scouring of Google Streetview. They weren't sinister. One was a child who wanted to give him a bottle of Lucozade (his sponsor) and another a gang of teenagers who Tom's dad (in a brilliant dad way) let in to see Tom's bedroom because they seemed interested. A thankfully short-lived video called 'How to find Syndicate's House' was slightly more worrying.
So how has the games industry reacted to the explosion of popularity of YouTube heroes - the likes of Syndicate, the Yogscast and Total Biscuit? Up until he popped up at a BAFTA judging panel there were few traditional game journalists that knew of him, while it was only when Activision saw him being mobbed by adoring fans at last year's Nottingham GameCity that they started to see what a valuable cheerleader (and perhaps a potential critic) he could be.
"They saw me meeting fans, out and about - seeing what impact it has," he explains. So were game publishers, in general, quick on the uptake? "No. I'd have to say really [they've been] slow. It's been going for so long, and there's been a lot of feedback on Call of Duty or other games," comes the reply.
"I know a YouTuber like me has say, a million subscribers, and they've got millions playing the game - but we're the hardcore fanbase. YouTube is where the huge personalities are - where people stress out what they want in the new game and make comments on trailers. It was a bit strange to see a slow pickup on it from publishers. Now, though, if a gun's too overpowered and the community and YouTube rise up to scream 'Overpowered!' then everything changes. The community has a say."
Tom Cassell has had a strange couple of years. To witness the rollercoaster he's on is fascinating, and faintly terrifying. To actually live it? Well, it's a good job that there's an old head resting on young shoulders, itself beneath an increasingly trademark Mohawk. Tom knows that his is a fairytale story, albeit one built on the bodies of the undead, and it's an image he's certainly keen to foster - but his intensity and earnestness remain startling. Tom's dad is a project manager in the building trade, while his mum is a children's day-care worker. To say they are bamboozled by his success would be a mild understatement.
"My mum's the proudest in the world," he explains, in the emotive way that's made him an extraordinarily rich teenager. "My dad, at first, said, 'Waste of time. It's a scam. Stop it. Concentrate on studying instead.' I told him it was a hobby, that I enjoyed it and to get off my back about it. He did, but he was still encouraging me to sack it in. When I was in the States presenting an award my dad turned around to me and said: 'Y'know, I'm really proud of you'. That meant a lot to me. Every son knows that when your dad says he's proud of you, it really means something."
It's not just his family he appreciates; it's any level of respect he gains from the game industry at large. "Acknowledgement from a company is the best thing ever," he explains. "For Eurogamer to say 'We know who Syndicate is', that makes you feel proud. That you've achieved something, and people know who you are."
He pauses for a second, perhaps mindful of those YouTube comments. "In the non-biggest-head-way-sense ever, obviously!" he underlines. "I just made up that word, but... you never want to be too big for your boots."