Among Us Irish localisation "a cultural win for a thriving minority language"
No lie.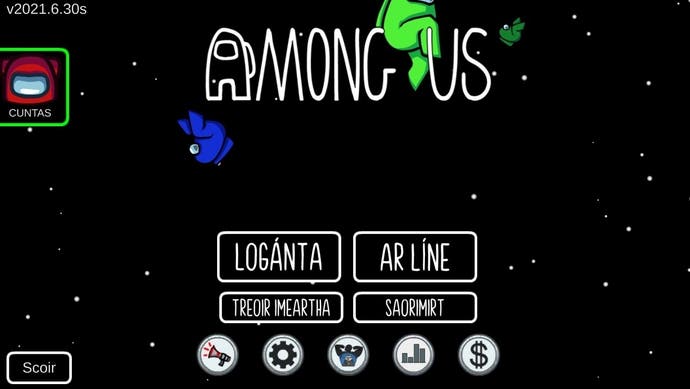 Among Us' new Irish localisation has been described as "a cultural win for a thriving minority language" by one of the people who worked on it.
The monster hit game received a new update yesterday, and with it brought Irish localisation. Among Us is perhaps the biggest game ever to receive an Irish localisation, although it is not the first.
"It's a MASSIVE win for a minority language and one of many I hope!" Úna-Minh Kavanagh, who spearheaded the project, said in a post on Twitter.
Kavanagh worked alongside fellow Gaeilgeoirí Brian C. Mac Giolla Mhuire, Cormac Cinnsealach and Mike Drinkwater on the localisation after calling for their mod to be officially added to the game late last year.
Kavanagh told the Irish Mirror that video game consulting agency Robot Teddy, which works with Among Us developer Inner Sloth, then got in touch to help make the localisation happen.
In Ireland it's compulsory to study Irish in secondary school, but the value of Gaeilge is the subject of a long-running debate, with some calling it a "dead language" due to the relatively small number of people who speak it. The figures from Ireland's 2016 Census show 73,803 people out of a total population of 4.75 million speak Irish daily - or 1.7 percent of the population. That was a decline of 3382 (4.4 per cent) on 2011.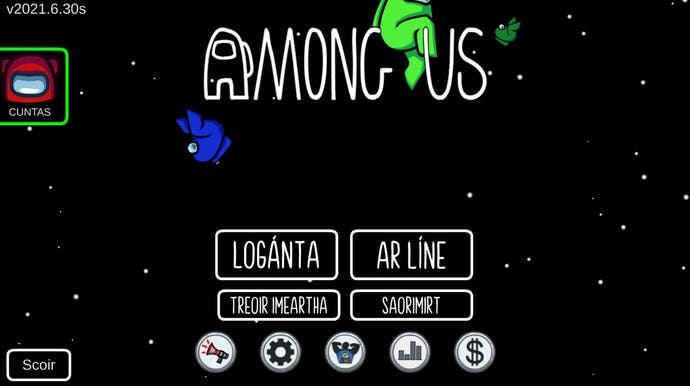 "One of my biggest hopes is that the Irish media sees how IMPORTANT this is for the Irish language and for minority languages in general," Kavanagh tweeted. "Among Us is HUGE. It's a massive win for teachers, speakers, young students, gamers and enthusiasts."
Roguelike deck-building game Dicey Dungeons, from Irish indie developer Terry Cavanagh (VVVVVV and Super Hexagon), also has an Irish localisation.
In 2019, Eurogamer reported on the person who translated the original 151 Pokémon into Irish.
Also in 2019, we spoke to Hideo Kojima about the song that plays at the end of the first Metal Gear Solid game, The Best Is Yet To Come, which was sung as Gaeilge by Irish singer Aoife Ni Fhearraigh.