Aladdin, Yoda and Rocket star in cancelled Disney Infinity 4.0 footage
Don't you dare close your eyes.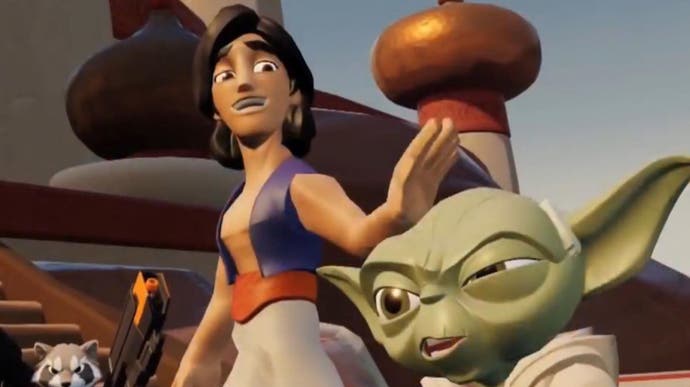 Disney Infinity 4.0 was already in production when the toys-to-life series was shut down - and there's now footage of it in action.
Disney, Pixar, Marvel and Star Wars characters were set to cross over once again in the unannounced sequel, subtitled "Kingdoms", which would have featured a large world based on Aladdin's Agrabah.
Footage below, which surfaced on ResetEra, shows Aladdin and Yoda teaming up to solve puzzles and defeat enemies such as Jafar's snake.
The footage comes from Sleeping Dogs studio United Front Games, which previously aided development of Disney Infinity 3.0 before its demise in 2016.
2016 was the year Disney killed off its Infinity series when it decided it wasn't making quite enough money. A subsequent report blamed mismanagement and inflated sales expectations.
The cancellation of the Disney Infinity series also took Disney Infinity's main developer Avalanche Software with it - until that studio was revived and bought by Warner Bros. to work on something else.