Advance Wars 1+2 Re-Boot Camp playable for one Nintendo Switch user
UPDATE: Nintendo has now cancelled purchase.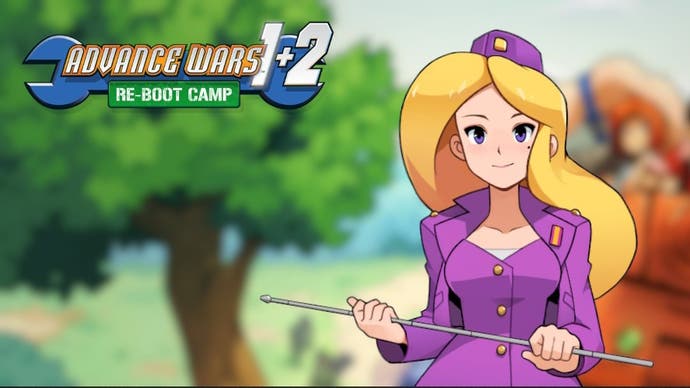 UPDATE 14/4/22: Killtheth, the Twitter user who gained access to Advance Wars 1+2: Re-Boot Camp on their Switch Lite despite Nintendo officially delaying its release, has now had her order cancelled. Nintendo will be providing Killtheth with a refund for her purchase (although she is yet to receive it).
Following her original posts sharing pictures from her copy of Advance Wars 1+2 Re-Boot Camp, Killtheth shared this update on her blog:
"I woke up on Sunday morning to an influx of social interaction on Twitter which gave me a mild panic attack. People were suggesting I turn on flight mode on my Switch, so I did, after having been playing the game normally with my internet on for a while.
"Just before noon on the Sunday, I received an email from Nintendo saying, 'We have successfully received your return!' with the item listed as Advance Wars 1+2: Re-Boot Camp. They also said they were going to be in touch regarding a refund or replacement. Obviously, I didn't arrange a return at any point, so I was super confused. I did get in contact with Nintendo at this point, talking to customer service about a refund I hadn't arranged, and they said they would 'elevate it to the dedicated department'. Shortly after I received a further email telling me:
"Further to your query, we are sorry to inform unfortunately the Advance Wars 1+2: Re-Boot Camp item on your order has been cancelled, the refund of £44.99 should be with you shortly. We apologise for any inconvenience this may cause you.'"
Before her order was cancelled, Killteth additionally shared some more shots of the opening missions from the game. These included the menu screen, use of the Lucky Star power and possum spit.
The original story continues below.
---
ORIGINAL STORY 11/4/22: One fan has gained access to a complete, digital version of Advance Wars 1+2 Re-Boot Camp, despite Nintendo having officially delayed the game's release.
Twitter user Killtheth uploaded a series of posts, giving a small insight into the game's opening and tutorial section (thanks, Nintendo Life).
"Finally getting to play Advance Wars, but only on my Switch Lite which had preloaded it prior to what happened," Killtheth wrote, with an accompanying snapshot of the game's welcoming dialogue.
Killtheth then went on to share a snippet of the tutorial's gameplay, which shows a map, and then footage of red and blue tanks advancing on each other.
Lastly, Killtheth confirmed Blue Moon are still in the first few missions of the game's campaign. Fans have long commented on the fact that each of the series' five main factions are loosely based on a real-world counterpart, with Blue Moon associated with Russia.
However, Killtheth hadn't realised she was apparently the only person - so far - able to access the game, writing: "will not lie, I did think other people had access to this and didn't expect this tweet to blow up like it did lol... I've no idea why it's letting me play, but as far as I'm concerned, I paid 50 quid for this so I'm going with it."
It is unclear if others have also been able to play the game now its original launch date on the Switch has passed.
Last month, Nintendo announced it was postponing its release of Advance Wars 1+2 Re-Boot Camp due to the ongoing war in Ukraine.
"In light of recent world events, we have made the decision to delay Advance Wars 1+2: Re-Boot Camp, which was originally scheduled to release on Nintendo Switch on 08/04," Nintendo wrote. "Please stay tuned for updates on a new release date."