Adorable wooden train set builder Tracks is leaving early access in September
And it's coming to Xbox One too.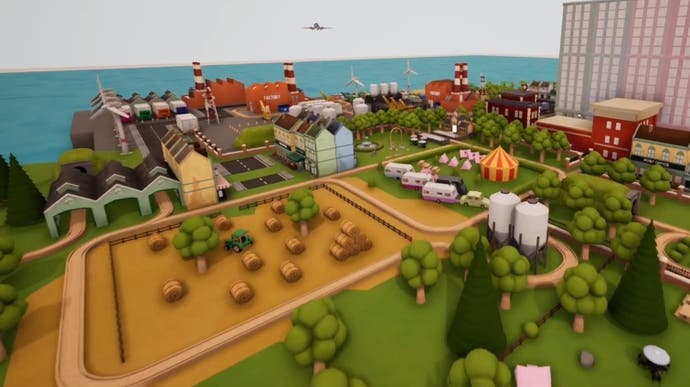 Developer Whoop Group's thoroughly delightful wooden train set builder Tracks will be leaving Steam early access on 20th September, and it's coming to Xbox One on the same day.
Tracks: The Train Set Game (as it's more formally known) will have been ambling pleasantly through early access for just under two years come September's launch, and it's continued to remain one of my very favourite time-hoovers on PC throughout.
Inspired by the classic wooden train sets from the likes of Brio, Tracks is a genteel, but utterly engrossing sandbox experience, focussed almost exclusively on the simple pleasures of plopping down track, them theming it up using a huge selection of beautifully designed props.
There are quaint village shops, town houses, towering skyscrapers, cars, roads, hedges, trees, fences, animals, bushes, rocks, rivers, benches, circus items, camping props, farm scenery, scuba divers, twinkling lights for nighttime sets, music makers, fireworks, even customisable fog and terrain - and it's all just so charmingly captivating, serenely shifting around those chunky building pieces as Tracks' beautiful piano accompaniment plays out in the background.
And then, when you're happy with your creation, you can experience it from ground level, controlling your little train in first-person and tooting your whistle with inevitable glee.
Whoop Group says that much of its attention will be focussed on optimisation and other back-end work ahead of Tracks' full launch - although two more major content updates are also planned to arrive before September's release. Then, once the game is out in the world, it will look at feedback and share its plans for future updates.
PC players intrigued by Tracks might like to know that there's currently 33% off through Steam. It's available for £10.04 at the moment, shaving a few pounds off the £14.99 price tag it will sport come full release on 20th September.