Activision unveils three Call of Duty: Advanced Warfare Collector's Editions
Plus, Call of Duty 4: Modern Warfare map Pipeline remade.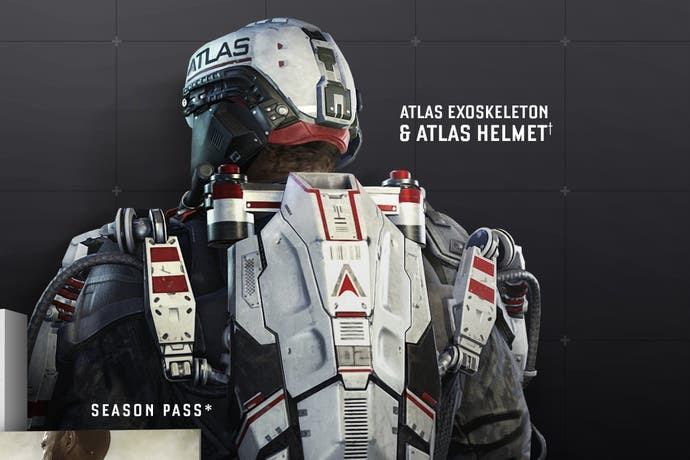 There is, as you would expect, a season pass for sci-fi first-person shooter Call of Duty: Advanced Warfare.
Today Activision announced that the season pass includes four DLC map packs that will eventually be sold separately, as is Call of Duty tradition.
Meanwhile, there are three Advanced Warfare Collector's Editions, ranging from £70 up to £100.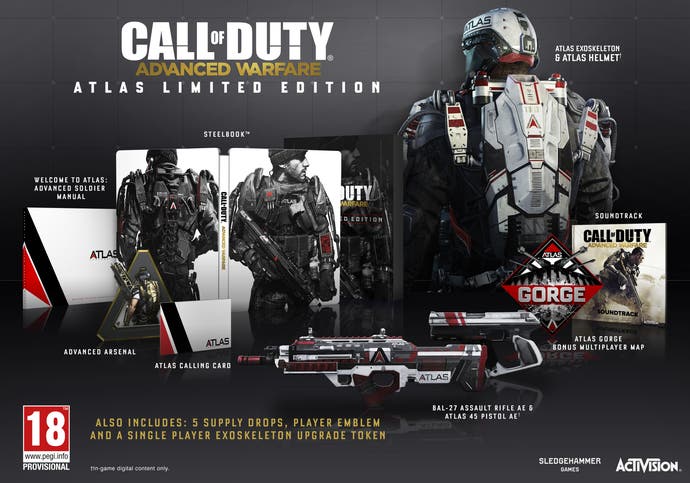 The £69.99 Atlas Limited includes a bonus multiplayer map, called Atlas Gorge, a collectible SteelBook, the Welcome to Atlas: Advanced Soldier Manual, and the Atlas Digital Content pack, which includes an Atlas-themed exoskeleton and Atlas-themed weaponry.
The pricier £99.99 Atlas Pro Edition includes everything in the Atlas Limited Edition as well as the season pass.
Digital-only fans will be interested in the £89.99 Atlas Digital Pro Edition, which includes all of the digital content in the Pro Edition, including the season pass, bonus multiplayer map and Digital Content Pack, as well as the Atlas Digital Edition Personalisation Pack.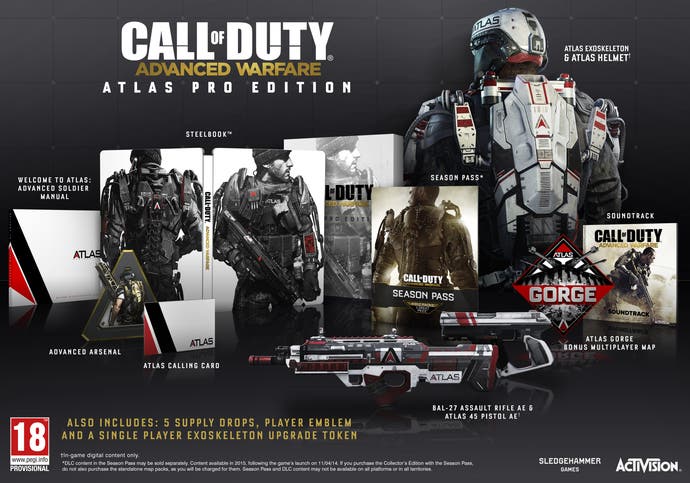 Let's dig a little deeper. The Atlas Gorge bonus map is a re-make of the Call of Duty 4: Modern Warfare map Pipeline. It's been reimagined for Advanced Warfare to take into consideration the new exoskeleton abilities (for more on these check out Eurogamer's Call of Duty: Advanced Warfare preview from E3).
Here's the official blurb: "The Atlas Corporation has commandeered the world's largest power source, the Three Gorges Dam in central China, creating a gripping setting for a multiplayer battle. Combatants will navigate the shadows and control a map-based turret scorestreak that overlooks the dam and helps to keep enemies at bay, all while leveraging new abilities and tactics enabled by exoskeleton technology, such as vertical combat, new sightlines, and strategic vantage points."
Now for the Atlas Digital Content Pack. This includes two weapons: the Bal-27 AE Assault Rifle and the Atlas 45 AE Pistol; the Atlas Exoskeleton; Atlas Helmet; and Atlas Player Card.
You also get five bonus supply drops. These unlock in-game content from player customisation gear to weapons. Expect more on multiplayer on 11th August.
You also get the single-player Exoskeleton upgrade token. Over the course of the campaign you unlock exoskeleton perks and abilities. The token gives you an extra upgrade.
As mentioned, the Atlas Pro Edition and Atlas Limited Edition also includes the Atlas Advanced Soldier Manual and the SteelBook. But it also includes the official soundtrack.