Abzû and The End is Nigh are currently free on the Epic Store
And you've got a week to claim them.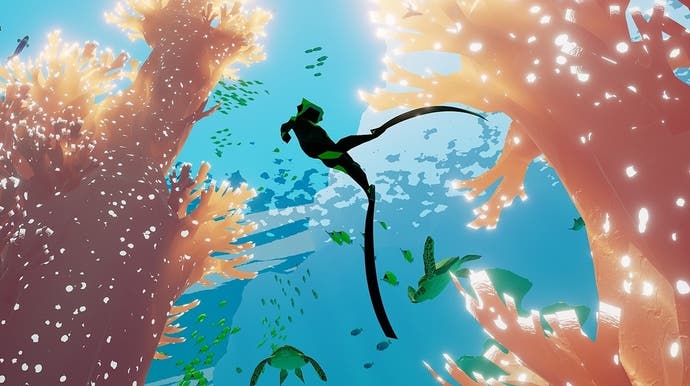 Another week, and another twosome of gaming freebies fired up from the depths of the Epic Games Store, this time catching the light and taking the form of underwater adventure Abzû and post-apocalyptic platformer The End is Nigh.
Abzû is the brainchild of Matt Nava, who previously served as art director on developer That Game Company's seminal Journey, and there are clear similarities between the two games.
Both focus on a lone protagonist's slow, steady journey intruding upon magnificent natural sights, and both blend genteel puzzling with frequently breathtaking set-pieces, enriched by the music of Austin Wintory. Indeed, Abzû's stylised rendition of a lost undersea world, and its aquatic inhabitants, is never less than beautiful - even if the experience doesn't quite manage to deliver the emotional wallop that it's clearly aiming for.
"Yet Abzû is still an easy game to recommend," said Martin Gaston back in 2016, "mainly because of the obvious skill at play here in crafting this unique and striking world. Even if you can't get comfortable in the sea, there's still some treasure to be found underwater."
The End is Nigh, meanwhile, is the work of Tyler Glaiel and The Binding of Isaac creator Edmund McMillen. It offers a bleakly humorous traipse across a desolate world, that plays out something like a spiritual successor to McMillen's earlier Super Meat Boy. There's the same twitchy, challenging 2D platform action, albeit this time delivered in a more cohesive package - with its deviously inventive, 600+ single-screen rooms neatly arranged into chapters, and its weird, sometimes sombre narrative providing a compelling through-line.
"The End is Nigh may be several years on from Super Meat Boy and developed with a different partner," wrote Jeffrey Matulef in his 2017 Recommended review, "but make no mistake: this is vintage McMillen. Not even the apocalypse can change that."
Abzû and The End is Nigh can be added to your Epic Games Store library for free, as long as you do so before 12th September.