Apex Legends firing range trick lets practice dummies murder you
Robot revolution.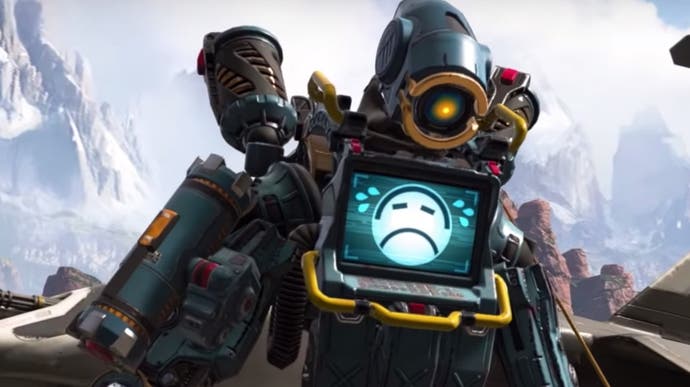 The training dummies in Apex Legends' firing range have had enough of being used as target practice.
Follow a simple set of instructions in the firing range practice area, and the training dummies will come to life and hunt you down with whatever weapons they can scavenge. Turns out the practice area isn't quite as safe as we thought.
To activate the Easter egg, you need to drop your starting weapon. Then, using Pathfinder's grappling hook, hop up to the support beam in the middle of the cave, on the hill overlooking the weapons and armour area. Crouch down on the beam, looking down at the ground, and switch character to any other Legend.
Exit the cave, and surprise! All three training dummies have come to life, picked up weapons, and have orders to shoot on sight. The Apex team at Respawn Entertainment are suitably impressed with the discovery.
But there's another Easter egg within this Easter egg. Kill one of the training dummies with a headshot, and the decapitated head is that of a Simulacrum robot from Titanfall 2. Titanfall and Apex Legends do exist within the same world, after all.
While we're on the subject, Respawn writer Manny Hagopian has teased an undiscovered Star Wars Jedi: Fallen Order-related Easter Egg lies buried in Apex Legends. For those unfamiliar, Jedi: Fallen Order was also developed by Respawn, and just released in November for PC, PS4, and Xbox One.
The hunt for Apex's Fallen Order Easter egg is already on, and Hagopian has now provided our first clue.
Any guesses to what this means?