A glimpse at an early version of Mortal Kombat Shaolin Monks
And Raiden was playable.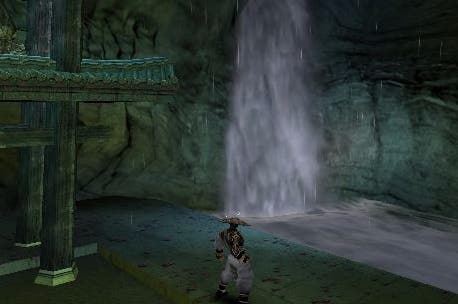 If you ever played 2005 Mortal Kombat spin-off Shaolin Monks, you'll remember it was a co-op focused beat-em-up with four playable characters: Liu Kang, Kung Lao, Sub-Zero and Scorpion. It looked like this:
Well, Mortal Kombat Shaolin Monks didn't always look like that. To celebrate the series' 25-year anniversary, Mortal Kombat development chief Ed Boon took to Twitter to release an image of Shaolin Monks before it became a co-op adventure and featured only one character: Raiden.
The image shows Mortal Kombat's famous Thunder God at the bottom of the screen facing a waterfall. I played Shaolin Monks on my original Xbox and thought it was pretty good for a fighting game spin-off. At the time, the main Mortal Kombat series wasn't in a great place, so Shaolin Monks did well to keep me interested in the series. And so Boon's tweet serves as a cool glimpse at an early version of the game, which ended up selling over a million copies across the PlayStation 2 and original Xbox.
As it's the 25-year anniversary of Mortal Kombat, NetherRealm is reviving interest in the series with a few promotional events. We've already reported on Raiden being available in DC fighting game Injustice 2. Mortal Kombat X now has Living Tower challenges themed to previous Mortal Kombat releases: Mortal Kombat 1-4, Mortal Kombat: Shaolin Monks and Mortal Kombat (2011).