A dramatic controller disconnect, shirtless shenanigans and one hell of an epic fail
The Evo fighting game tournament delivers once again.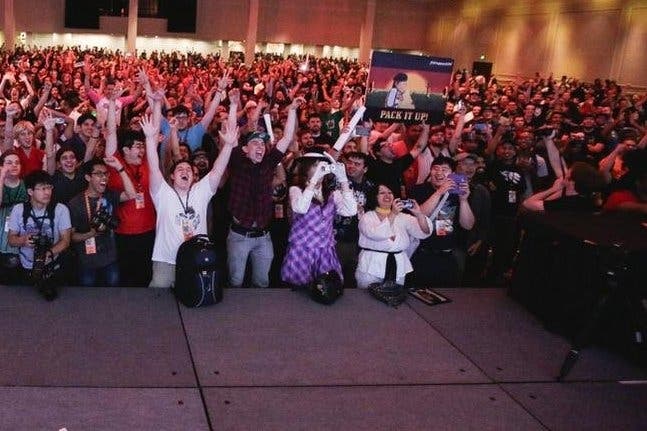 The Evolution Championship Series 2015 wrapped up last night - and once again the biggest fighting game tournament on earth delivered.
Evo 2015 took place at the Bally's / Paris Las Vegas Hotel and Casino, and saw thousands of participants take part in tournaments for fighting games including Ultra Street Fighter 4, Ultimate Marvel vs. Capcom 3, Super Smash Bros, Guilty Gear Xrd -SIGN, Killer Instinct, Mortal Kombat X and Persona 4 Arena Ultimax.
THERE MAY BE SPOILERS AHEAD.
Top of the bill was Ultra Street Fighter 4. Japanese player Yusuke Momochi, playing as Evil Ryu, defeated Taiwanese player Bruce "GamerBee" Hsiang, playing as Adon, in a dramatic grand final that saw a controller disconnect at the death.
In the second round of the deciding match, Momochi's arcade stick disconnected, pausing the game mid-fight. Momochi was one round up and had made a strong start. But following the disconnect, he was forced to forfeit the round as per tournament rules. GamerBee reduced Momochi's health bar to just below his own, ensuring victory on a timeout.
Momochi has paused the game awarding round 2 of the final game to Gamerbee , round 3 will decide the champion. #Evo2015

— EVO (@EVO) July 20, 2015
After a delay, both players composed themselves before the tournament's final round, which Momochi, using a new stick Evo organisers had drafted in for him, won.
Elsewhere, one of the moments of Evo 2015 was a shirtless battle between Korean player Poongko and American player Onisan. Check out the action in the video, below. It's worth a watch.
And how about this for a Killer Instinct comeback?
And the biggest fail of Evo 2015 has to go to Woshige, who, after winning the second round of a Guilty Gear Xrd Sign match celebrated as if he'd won the tournament, forgetting he had one round left to play against Ogawa, perhaps the best Guilty Gear player on earth. Check out what happens next in the video below.
For the Evo 2015 results in full, check out Shoryuken.