Here's the best Xbox One X deal of Black Friday and Cyber Monday so far
£380 for the Xbox One X 1TB, Red Dead Redemption 2 and Fallout 76.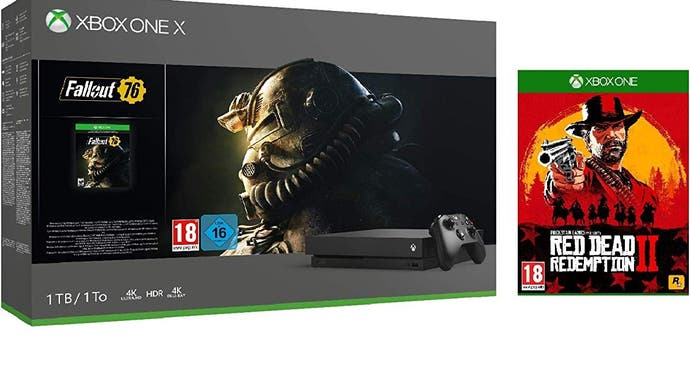 Update 5: That seems to be it for the XOX deals for Black Friday weekend. For the final round of offers and discounts, check out the best Xbox One X deals section of our main Xbox One Black Friday and Cyber Monday deals hub.
Update 4: There's another Amazon Lightning Deal for an Xbox One X bundle. This one includes the Xbox One X 1TB with Fallout 76 and Red Redemption 2 for £380. We saw the Xbox One X with only Fallout 76 for £360 earlier, so this is as good as that plus you get the excellent Red Dead Redemption 2 for £20. As before, this deal is expected to sell out quickly, with seven per cent claimed at the time of writing.
Update 3: Amazon have a new Xbox One X bundle on a Lightning Deal right now - and we reckon it might be the best one so far. For £399, you get an Xbox One X 1TB with Red Dead Redemption 2, Battlefield V, Battlefield 1943 and one month of EA Access, the company's game subscription service.
Update 2: Currys has dropped the price of the Xbox One X with Fallout 76 to £359.99, which makes it the cheapest pack if not necessarily the best value. For the full rundown of currently available Xbox One discounts, check out our list of the best Xbox One Black Friday and Cyber Monday deals, which we're updating daily with the latest offers.
This includes the best deals on Xbox One S bundles on Black Friday, as well as the most recent discounts on games and accessories.
The Xbox One X is the most powerful console on the market when it comes to raw computing power, and that's often reflected in games that run at higher resolutions and use more advanced effects than is possible on the base Xbox One - not to mention the PlayStation 4 or even the PlayStation 4 Pro. If you're an aficienado of our comparison videos, where we take a close look at how the same game is rendered on different consoles, you might have been tempted to upgrade to enjoy that boost in visual fidelity for yourself.
The best Xbox One X Black Friday and Cyber Monday deal in terms of value is, for our money, Xbox One X 1TB Battlefield V Gold Rush bundle plus Assassins Creed Odyssey and Fallout 76 for £399.99, also from Amazon. Fallout 76 has not had a warm reception, but Battlefield and Assassin's Creed are decent extras - if you prefer racing or football, you can get some appropriate bundles for the same price. If you want Red Dead Redemption, you'll have to pay extra for it.

If you're in the US, things are a bit less thrilling. The best price we've found so far is from Microsoft direct.
We mentioned those comparison videos earlier, so it might be a good idea to link to some of the latest ones we've done so you can get a good idea of the visual difference between the different platforms and see the the difference that the Xbox One X brings. On some games the comparison is quite stark - like on Red Dead Redemption 2 and Fallout 76 - whereas on others the differerences can be minimal or even a matter of preference. We've also seen feature differences between different game versions, such as the performance mode included on Forza Horizon 4 which boosts frame-rates on the Xbox One X to a smooth 60fps. Ultimately, it's up to you to decide whether the enhanced visuals and extra features are worth the extra expense. This Black Friday deal makes upgrading a little more tempting, of course!
We'll continue monitoring the latest Xbox Black Friday deals as the week continues, but we think that this is a very good price for the Xbox One X and we're unlikely to see a drastically lower price before the period ends.