Historical drama 1979 Revolution is coming along nicely in its latest trailer
Due this autumn, now on Steam Greenlight.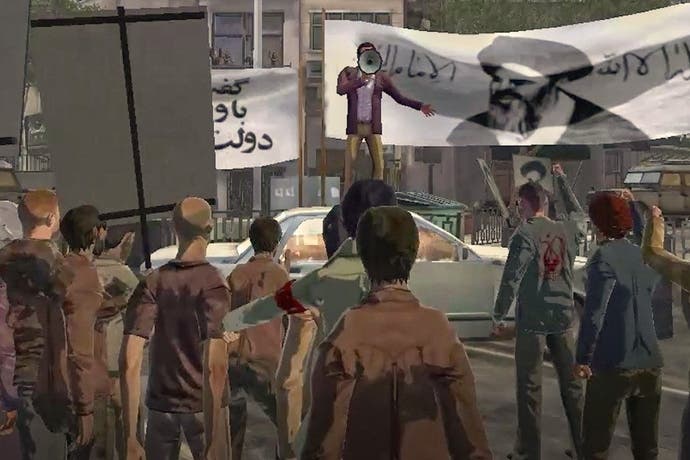 Historical episodic adventure 1979 Revolution, a game about the events surrounding Iran's cultural revolution, is now set to release its debut episode, Black Friday, this autumn on PC, Mac, iOS, Android and "consoles".
Developer Ink Stories creative director Navid Khonsari confirmed to Eurogamer that he's in talks with Sony and Microsoft about console releases, but the final details have yet to be sorted.
In the meantime, 1979 Revolution has launched a Steam Greenlight campaign, where the following new trailer shows off how the game is shaping up.
Clearly it's looking exponentially more polished than the pre-production footage we saw when Ink Stories launched its ill-fated Kickstarter for 1979. Khonsari told me that while the crowdfunding campaign was unsuccessful, it helped Ink Stories get a lot of media attention which led to funding through private investors elsewhere.
"We raised the money privately through people who were interested in coming on board as equity investors," he said. "Most games don't get financed in this way."
When asked about the team size for this project, Khonsari told me, "We've been as nimble as eight, and have blown up a much as 24." He estimated that the team is currently around 20-22 staffers.
One such contributor is DMZ and Local author Brian Wood, who worked on the script with Khonsari.
Khonsari also recruited a pretty darned professional cast of actors, which includes: Navid Negahban (Homeland, American Sniper), Farshad Farahat (Argo, State of Affairs), Omid Abtahi (Hunger Games, Better Call Saul), Bobby Naderi (Fear the Walking Dead, Taqwacores), Mozhan Marno (House of Cards, A Girl Walks Home Alone At Night), Nicholas Guilak (Of Gods and Kings, 24), Mary Apick (Homeland, Beneath The Veil), and Fariborz David Diaan (The Brink, Stoning of Soraya, Weeds).
"We have the best Iranian American actors presently working in I would say in the world," Khonsari said of his cast.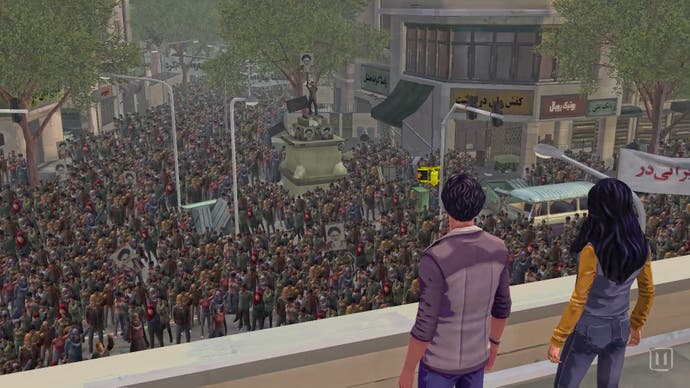 The director narrowed down the release date to September or October. Part of the reason for the uncertainty is due to the fact that he's really hoping to add a few more localisation options in before Black Friday goes out into the world.
"We want to be able to offer it in a number of different languages and we want to do that simultaneously," he said. "And some of the languages that we're choosing are outside of what people usually consider to be the big, big languages. Ya know, French, Italian, German, Spanish and English. We want to bring on board Farsi, Arabic, Russian, and looking towards possibly Mandarin. So that's forcing us to add a few more weeks or whatever it may be from our initial release date."
"Steam has a way of transcending an English or western market and it really kind of appeals to gamers who have PCs all over the world," he added. "Especially in Iran where you've got a population of 70 million who actually have access to a game that's about their history, and is actually done in their language. I think it's going to be pretty exciting for them. It's certainly very exciting for us. Hopefully it starts making all of us look at localisation and the fact that we're looking at gaming now having a world audience more than anything else and making sure we make stuff accessible to them."
Last year I spoke to Khonsari at length about 1979 Revolution, in which he discusses the difference between the west's perception of late 70s Iran and the actual reality of 1979 Iran, in which women regularly wore tanktops and folks nonchalantly argued such important cultural issues as the benefits of heavy metal over disco. Of course, there was also a regime change underway and things were about to get very nasty indeed.