1080p Project Scorpio games "will look different" and some "run a little better" than on Xbox One/S
"I'm trying to be transparent with people," says Spencer.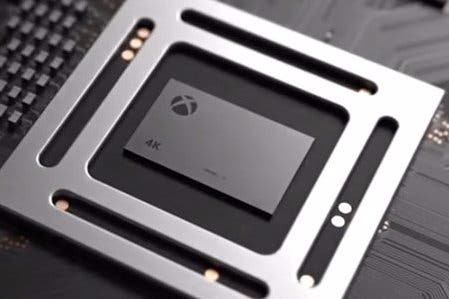 In an interview with Wesley yesterday, Xbox boss Phil Spencer strongly suggested that if you use a 1080p TV for gaming then the new and more powerful Xbox, Project Scorpio, "is not going to do anything for you".
"Scorpio is designed as a 4K console," he said, "and if you don't have a 4K TV, the benefit we've designed for, you're not going to see."
But in a more recent interview with GiantBomb, Spencer wiggled and said that a Scorpio-powered game "will look different" and may "run a little better" than on Xbox One or the Xbox One S.
The specific question Spencer is answering in the below quote is about Scorpio making an existing Xbox One game look and play better, and he used Halo 5 as an example.
"Halo 5 implements something called dynamic scaling, so as scenes get more complex, in order to maintain 60fps they will actually change the resolution that you're running at," he told GiantBomb (via Videogamer). "And they're not the only game that does this. So then if you run that game on Project Scorpio you're actually going to be at the max frame-rate of that game more often.
"I'm not going to put that as a top-selling feature of Scorpio because not all games use dynamic scaling; I'm trying to be transparent with people about where we are in the design of Project Scorpio and what it was designed for. It was designed in order to enable these high-fidelity 4K experiences. So some of the existing games will actually run a little better if they're using dynamic scaling, but I wouldn't buy Scorpio to run your existing library of Xbox One games [better]. I wouldn't suggest somebody does that.
"And then I get the question of well if you have an HDTV and you don't have a 4K TV, should you go buy Project Scorpio? And I guess some people will do that, and obviously Scorpio is going to be running the 6 teraflop version of a game, and that version of a game, even when downsampled to HD will look different than the game running at 1080p.
"But I still think of the complete Scorpio experience as somebody that has a 4K TV with Scorpio plugged into it. To take Scorpio and then plug it into an HDTV to me feels like you're taking a 4K frame buffer and down-rezzing it to show it on your TV. And the box will have downsampling - it will obviously show up on an HDTV - but the real design point for us, the motivation behind Scorpio, was 4K gaming, 6 teraflops. Some developers will take advantage of that 6 teraflops in different ways..."
That last point is the key point: "some developers will take advantage of that 6 teraflops in different ways". Microsoft won't force developers to use the extra Scorpio processing power to hit 4K; they're free to use it how they want. That's great. But whereas Microsoft sees Scorpio as the 4K machine, a developer may simply see it as 'more power' for a native 1080p experience, and that's where this idea of Xbox One and Scorpio playing the same games becomes murky. How can they be the same games - or are they the same in the way that Xbox 360 and Xbox One cross-generation games were?
It's great to see Microsoft aggressively pursuing no-frills raw console power again, but the Project Scorpio message is confusing for Xbox One owners - a topic Rich Stanton dived into earlier today.
It's worth also checking out Digital Foundry's dissection of the Project Scorpio specs to see how it compares to Sony's equivalent PS4K Neo, as well as to PS4 and Xbox One.
Microsoft announced a slimmer - and ever so slightly more powerful - Xbox One at E3 as well, and we've put together an article compiling all the Xbox One S details you need to know.