I feel like I need to have been more committed to playing this and sorting my shit out, like have my QR reader already, and got a milestone done every day.

Got enough money in the bank ready to pay for my next extension, my second floor is being built today.

I'm too lazy on Sundays to remember to get in on the turnip action though.

I have made efforts to make my character a little bit psycho. I should not be the mayor.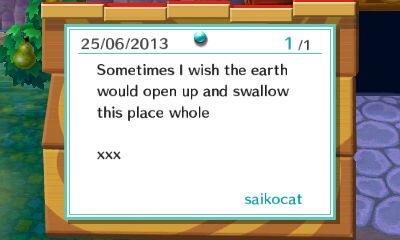 Edited by psychokitten at 14:28:39 27-06-2013